Labour Market Information
2017 in Review
We have released the Q4 2017 employment and labour market data for Canada's oil and gas industry and thought it would be a good time to recap what happened to the workforce in 2017 and how it compared to our outlook to 2021.
2017 began with prices hovering around US$52 per barrel (/bbl), and a certain amount of optimism that the layoffs were behind us and recovery was on its way. Fast forward six months to June – prices dipped to a low of US$45 – and the optimism was wavering. However, the year finished off strong, with December oil prices averaging US$57. Employment seemed to reflect the shifts, with the overall labour force at its lowest in Q2 and Q3 at 181,800 and 183,700 respectively.
LABOUR FORCE = Employed workers + Unemployed workers available to the Canadian oil + gas labour market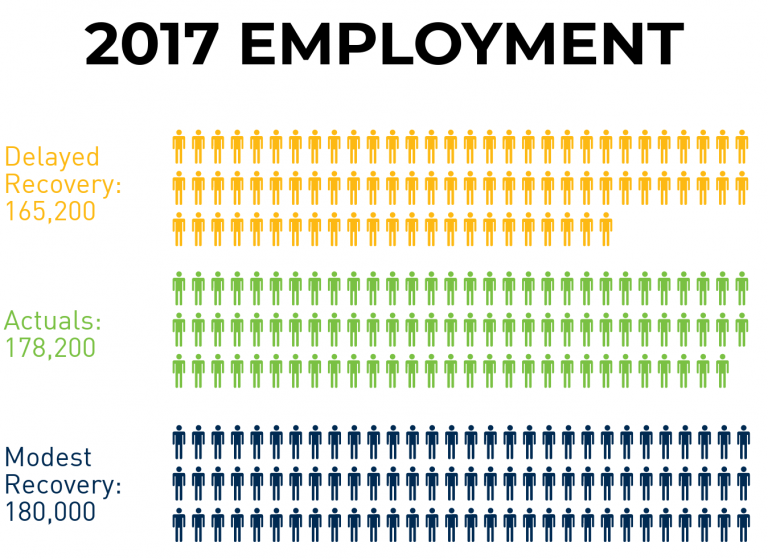 The Labour Market Outlook 2017 to 2021 for Canada's Oil and Gas Industry report, released in March 2017, outlined two possible scenarios for 2017. One in which oil prices averaged US$55/bbl and industry experienced a modest recovery, and one in which oil prices averaged US$46/bbl and industry experienced further cuts and a delayed recovery. With actual prices averaging in the middle at US$50 (source: Statista) where does that leave the recovery?
Canada's oil and gas industry employed 4,100 fewer workers in 2017 compared to 2016. So, we didn't see the growth that US$55/bbl might have brought, but we also didn't see the loss of 8,700 jobs that was anticipated if oil prices continued dropping.
However, after three years of job cuts we are seeing that workers are seeking employment elsewhere – our labour pool is getting smaller. Compared to 2016, our labour pool has decreased by 13,800 workers, and in Q4 2017, industry unemployment rate was concerning at 4.7%, below the ideal or balanced rate of 6%. Check out our report for more details.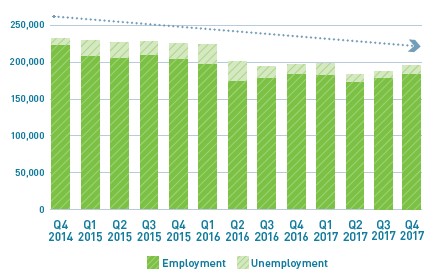 As we discovered in our labour supply study (Workforce Insights: Impacts of the Oil and Gas Downturn on the Future and the Attitudes of Workers) – there are highly specialized, educated and skilled workers looking for employment, while at the same time oil and gas service companies are already experiencing difficulties finding field personnel, skilled and semi-skilled workers. Job seekers are turning to industries perceived to have more employment stability, even if these positions offer less in terms of compensation.
Going forward, we expect that attracting certain workers will remain a challenge. Adding to any job growth, the industry will also be experiencing retirements – approximately 22,000 to 23,000 employees are eligible to retire by 2021.  Maintaining a lean and productive workforce and continuing to improve operational efficiencies through innovation and technology will be key in order for companies to remain competitive – so that also means different skill requirements.