news
2021 in Review | Canadian Energy Industry Labour Market
Labour Market Information
2021 in Review | Canadian Energy Industry Labour Market
PetroLMI has just released December 2021 and Annual 2021 data from Statistics Canada's Labour Force Survey (LFS), providing a glimpse into the state of the Canadian energy industry labour market at year-end. PetroLMI gathers and analyzes data specifically within the following industry sub-sectors: exploration and production (including oil sands), oil and gas services and pipelines. 
Improved labour market conditions
Labour market conditions in Canada's energy industry in 2021 improved substantially over 2020. The labour force (those working and actively looking for work) grew by 12,300 (+6.7%) while employment was 21,300 (+13%) higher than the year prior. Alberta alone accounted for about three-quarters of the annual employment increase. Canada's energy industry even managed to surpass 2019 labour force and employment levels – though just barely (see Figure 1). The unemployment rate averaged 5.5% in 2021 (10,700 unemployed energy workers), down significantly from 12.1% in 2020 (19,800 unemployed) but slightly higher than 5.2% in 2019 (10,100 unemployed).
Did you know?
Employment in Alberta's energy industry averaged 140,200 in 2021 – up 15,700 (+13%) compared to 2020 and surpassing 2019 employment of 136,400. Nearly all the job gains were in the province's exploration and production sub-sector (+14,300).
Figure 1: Labour force characteristics for Canada's energy industry, 2019 to 2021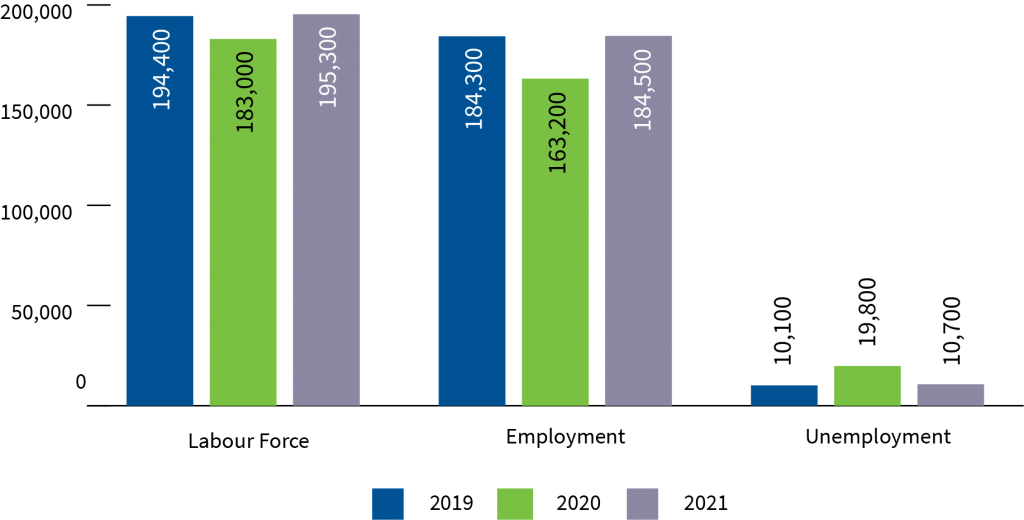 All three energy sub-sectors experienced employment gains…
Average annual employment rose in all three sub-sectors in 2021, compared to 2020, with 70% of the job gains coming from the exploration and production sub-sector. Employment in this sub-sector increased by 14,700 (+17%) year over year, while employment rose by 3,900 (+33%) in the pipelines sub-sector and by 2,700 (+4.2%) in the oil and gas services sub-sector.
…however oil and gas services was not able to surpass 2019 employment levels
Compared to two years earlier however, employment in the oil and gas services sub-sector was not able to recover to pre-pandemic levels. While employment in this sub-sector rose to 67,300 in 2021 – it was still 12,300 below the 2019 level, when employment averaged 79,800 (see Figure 2).
Did you know?
Canada's available oil and gas services labour force has been shrinking since 2013. The fact that this industry sub-sector is both seasonal and cyclical in nature, combined with the COVID-19 pandemic and associated layoffs, has resulted in many workers retiring or leaving the sector entirely. Canada's oil and gas services labour force has declined 40% (-47,500) over the last eight years – from an average of 118,900 in 2013 to 71,400 in 2021.
This has been a major concern for industry in 2021, as industry activity picked up and employers struggled to find workers. The job vacancy rate in Canada's energy services sector jumped to 6.1% in the third quarter of 2021 – the highest since comparable data became available in 2015. See our latest blog posts here and here for more details.
Figure 2: Employment in Canada's energy industry by sub-sector, 2019 to 2021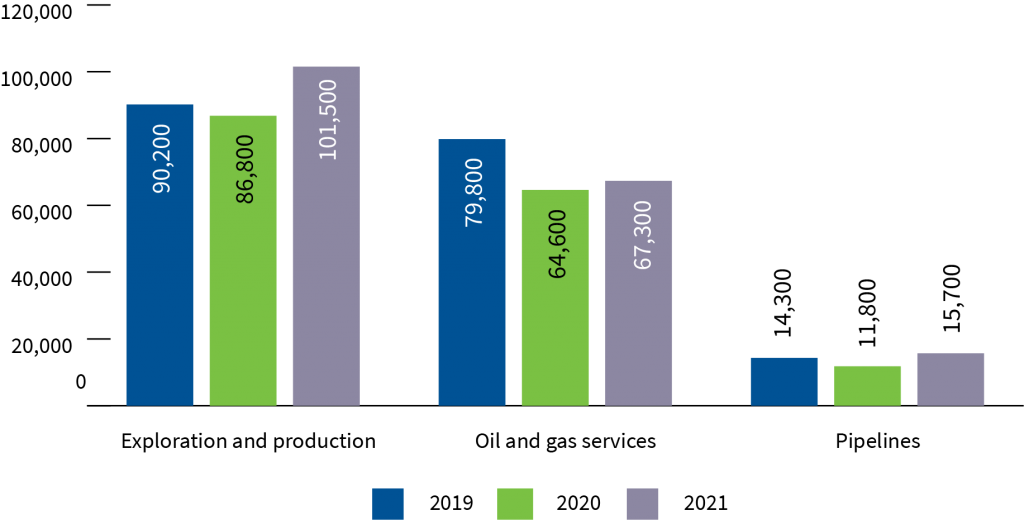 Nearly all the job gains in 2021 were among men
Annual employment rose for both men and women in 2021, however, essentially all the job gains were among men. Employment for men – which made up 79% of industry employment in 2021 – increased by 20,300 (+16%), while employment for women rose by just 1,000 (+2.7%).
Older adults led employment gains
Meanwhile, annual employment increased in all age categories in 2021 with adults aged 45 and older accounting for 58% of the job gains.  Employment rose by 7,400 (+21%) for those aged 45 to 54 and by 4,900 (+22%) for those aged 55 and older.
Figure 3: Employment in Canada's energy industry by age, 2020 to 2021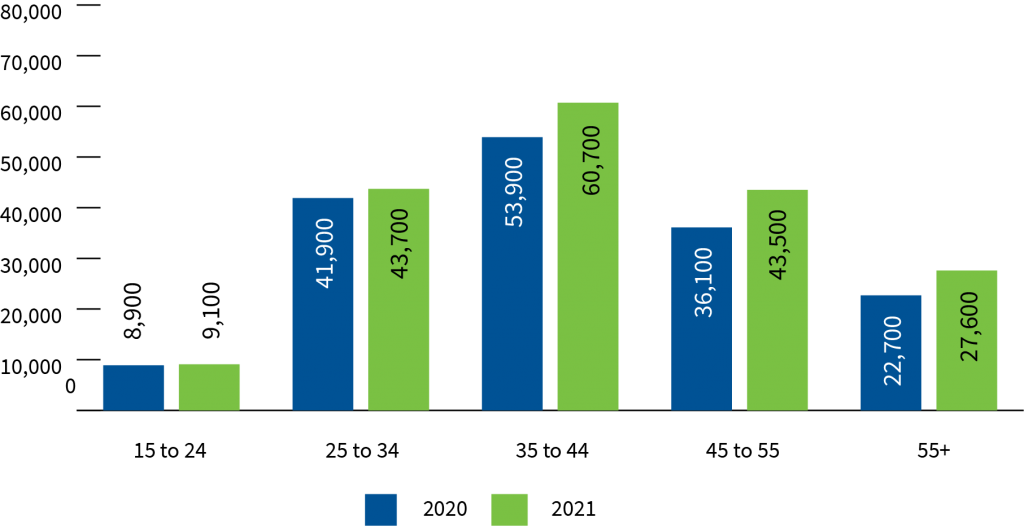 Employment growth driven by full-time work
Both full- and part-time employment increased in 2021 but full-time employment, which made up 97% of energy industry employment in 2021, increased by 20,900 (+13.3%), while part-time employment rose by 400 (+7.0%).
What's ahead for 2022
Watch for the January Labour Force Survey data which will be available here on CareersinEnergy.ca on Friday, February 4.