news
A look at where we've been and where we're going
Labour Market Information
A look at where we've been and where we're going
This summer we've released three new reports which together provide a picture of significant change in Canada's oil and gas industry: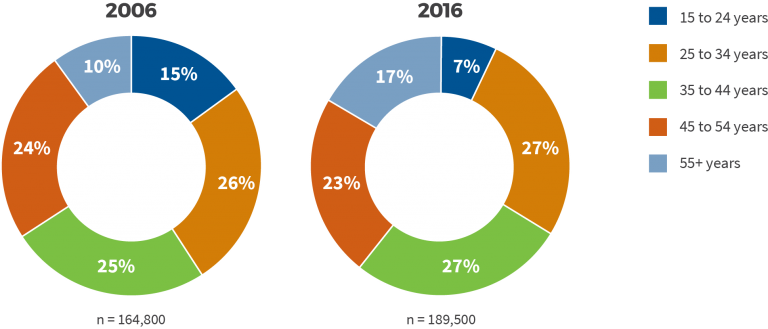 Among the findings of these reports: from 2006 to 2016 Canada's energy industry became more culturally diverse, with more immigrants, visible minorities and Indigenous Peoples joining the ranks. Representation of women, however, didn't change much remaining at about one-fifth of the workforce and, with the economic ups and downs of the industry over the last decade, we saw an overall decrease of young workers, those under the age of 25 dropping from 15% of the workforce to 7%.
From our most recent report Canada's Oil and Gas Workforce: Distribution, Work Patterns and Income, we learn that workers were nearly twice as likely as the average Canadian to have no fixed workplace.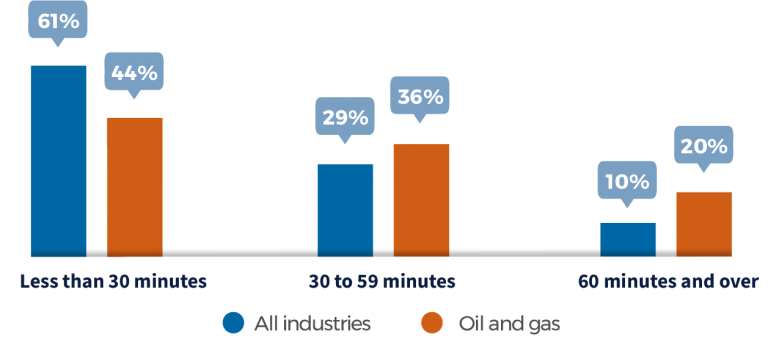 Over 20% of the industry's workforce reported they didn't go to the same location every day for work. Oil and gas workers were also twice as likely as the average Canadian to travel one hour or more for work. Longer commutes to different workplaces are a result of the nature of the work, which often takes place in remote locations.
Part-time work also grew. Nearly half, or 44%, of oil and gas workers worked part of the year (i.e., fewer than 49 weeks) and/or part-time (i.e., fewer than 30 hours) in 2016, increasing from 41% in 2006, a reflection of companies' attempt to manage the uncertainty in the economy. Oil and gas services had the highest percentage of part-year and/or part-time workers at 51%, while the pipeline sector had the highest percentage of full-year, full-time workers at 69%.
From 2006 to 2016 the oil and gas workforce also became more educated. The proportion of workers without a high school diploma dropped from 16% in 2006 to 8% in 2016. The share of workers with a university degree also increased from 19% to 26%. Meanwhile, the average income among oil and gas workers increased. The average wage in 2011 was $101,200 compared with $125,300 in 2016. Both educational attainment and income varied between the three sub-sectors that directly employ oil and gas workers – exploration and production (E&P), oil and gas services and pipelines. Workers in the pipeline sub-sector tended to be the most educated, with 45% holding a university degree. More than 60% of the exploration and production workforce held a college diploma or university degree. Unsurprisingly, due to the nature of work, the oil and gas services sub-sector had the highest share of workers with either a high school diploma and/or a trade certificate. In tandem, the E&P sub-sector had the highest average income at $153,600, followed by pipelines at $145,100 and oil and gas services at $95,700. The pipeline sub-sector saw the largest increase over the five-year period along with advancing a more educated workforce.
Looking ahead, as Canada's energy industry adjusts to a variety of regulatory changes, implements technologies such as data analytics and automation, and, continues to enhance the application of a manufacturing process to the country's resource development, workforce requirements, occupations and skills will need to shift. Changing emission regulations, for instance, will create more demand for workers with skills in measurement, mitigation and reporting, while stricter regulations around public consultation for major energy projects will require more workers with strong communications and stakeholder relations skills, as well as for those who have experience working with Indigenous partners. Increasing use of data analytics and automation technologies will drive demand for more digitally literate and mechanically inclined workers, as well as more programmers, and information technology and instrumentation technologists to install, maintain and upgrade software systems. The application of increasingly sophisticated manufacturing processes to Canada's oil and gas fields, meanwhile, is already creating a need for more construction planning, logistics and project management expertise.
A lot of these new or emerging opportunities will appeal to workers who are seeking challenging, technology-driven occupations – and may also offer an opportunity to re-attract young workers who have been lost to the oil and gas industry's downturns. Automation may, in fact, make some occupations in the industry less physically demanding and therefore reduce the barriers of entry for some potential workers, particularly women. Going forward, the oil and gas industry will need to adapt and change to remain competitive, and part of that will be finding new solutions to attract the best talent. There will be both opportunities and challenges for Canadians working in the industry as it changes and adapts as well as for those who are looking to become a part of it.