news
Canada's oil and gas labour market lost 3,000 jobs in April
Labour Market Information
News
Canada's oil and gas labour market lost 3,000 jobs in April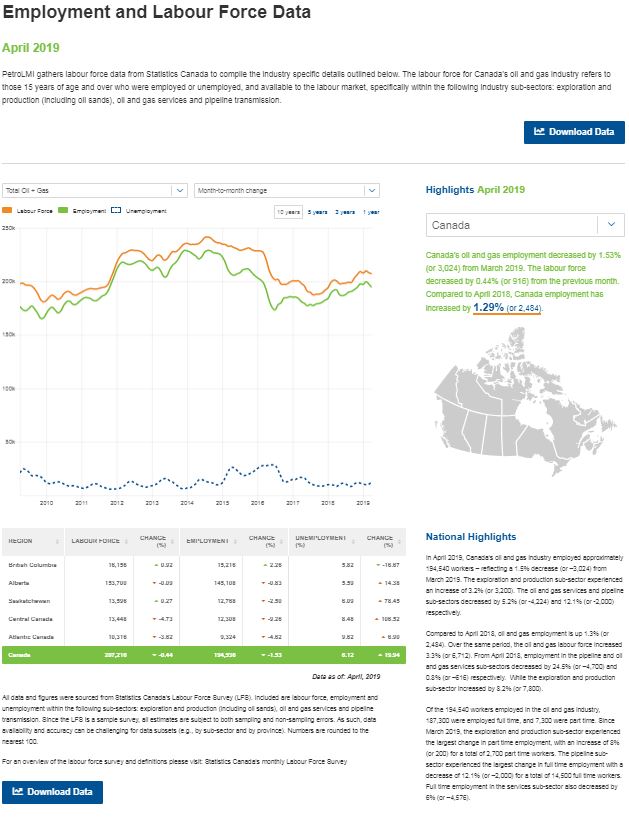 Canada's oil and gas employment declined by more than 3,000 positions this April, and of those jobs, 40% were from Alberta.
Based on the latest labour force survey data released by Statistics Canada, the industry employed 194,500 workers this April, which is down 1.5 % (or just over 3,000 jobs) from March this year. Canada's oil and gas services, as well as the pipeline sub-sectors saw declines of 5.2% (or 4,200 jobs) and 12.1% (or 2,000 jobs) respectively. While the exploration and production sub-sector experienced growth of about 3,200 jobs.
"Despite strong employment gains experienced across other industries last month, Canada's oil and gas industry continues to see job losses," said Carol Howes, Vice President of Communications and PetroLMI Division of Energy Safety Canada. "Overall, we have seen a net loss of about 2,700 jobs since the beginning of January. While there have been gains in the exploration and production sub-sector of about 12,500 jobs, the services sub-sector has lost about 9,800 positions and the pipeline sub-sector has lost about 5,400."
British Columbia was the only province to see an employment increase in the oil and gas industry this April, up 2.3% (or 300 jobs). While in Alberta, there were about 1,200 job losses, which reduced the province's direct oil and gas workforce to approximately 145,100. Saskatchewan, Central Canada and Atlantic Canada also experienced April job losses.
Compared to a year earlier, Canada's oil and gas employment has seen a gain of 1.3%. However, employment in Alberta and Saskatchewan decreased by nearly 3% and 1.5% respectively, during the same time period. This resulted in a loss of 4,300 jobs in Alberta and 200 jobs in Saskatchewan.
"While some of the job declines in the oil and gas services sub-sector may be related to the start of spring break-up, the decline in capital spending and uncertainty over market access continues to impact hiring," said Howes.