news
Day in the Life: Amy – Production Engineer
Day in the Life: Amy – Production Engineer
For Amy, the choice to become an engineer was a natural one. She followed in her father's footsteps and pursued a Bachelor of Science in Mechanical Engineering from the University of Alberta. Amy says, "There's a running joke in our field that if your mom or dad is an engineer, you'll probably end-up as one too. You could say we like to keep it all in the family!"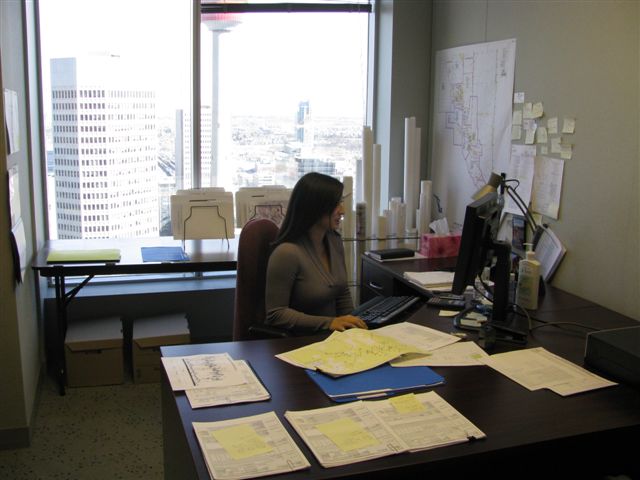 Amy was fortunate enough to participate in a co-op program, which offered valuable work experience during her university studies. The co-op work terms gave her an insider view of the industry, where she was exposed to the midstream oil and gas sector involved in regulatory pipeline integration.
Shortly after graduating, Amy interviewed with Canadian Natural Resources (CNRL) and was hired through their new graduate program. The two-year program provided new grad hires with extensive on-the-job training and field experience. Amy has been with CNRL for four years and is proud of her achievements. "As a production engineer, you are immersed in a variety of projects and can see direct and tangible results right away. I've gained a real sense of accomplishment in seeing projects through, from start-to-finish."
My typical day looks like this:
Production engineers are typically involved in the full life-cycle of a well. My hands touch everything from the design, construction, operation, maintenance, quality control and optimization of systems involved in oil and gas production. Production engineers are the "practical side" of the industry, central to field operations.
I usually start the day by checking production rates in all my assigned fields. I look for wells with production concerns and find ways to optimize production. I use specialized software to create models of pipeline systems, which spots inefficiencies and helps to find solutions.
A large part of my job involves project management. I coordinate all aspects of setting up a drill site. From a logistics perspective, I need to know the steps involved in completing a well, what facilities are required, construction of a well site and where pipelines go. Coordination of these activities is a constant juggling act, but satisfying once everything comes together.
November to March is our busy season. In the winter, much of my time is spent keeping tabs on projects and planning for the next quarter. The summer months are slower, because rigs shut down for spring break-up. In the slower season, I conduct assessments for drilling programs that are coming to a close. I'll review project outcomes and budgets. I also participate in smaller projects, mainly regulatory and facility work.
Work Environment:
I work in a typical office setting in downtown Calgary. I'm out in the field about once or twice a month, though I wish it was more! CNRL provides chartered flights to Fort St. John, and typically we drive to site in a truck. I spent two years in the field, rotating through several field assignments. I worked at a gas plant just outside Edson, spending time on several drilling and completion rigs and working out of the field office in St. Albert. When I started with CNRL, the orientation was very hands-on. I lived in a camp with other workers, sleeping in mobile trailers near the site. We were located in a rural area, but close enough to small towns with all amenities. The experience taught me about the business of drilling and completions from the ground floor.
The industry has changed a lot over the years, with more and more women being employed in technical roles. There are lots of young people and work-life balance is important. When I was looking for a job, a positive work culture was very important and CNRL was able to provide that.
Why I chose the oil and gas industry:
Not sure I chose the oil and gas industry, rather I wanted to work for a company that was focused on culture. If you're willing to work hard, you'll get the right opportunities. People at CNRL really care about their jobs.
Skills I use most in the job are:
Technical skills come from experience, and you're building these all the time. To stay on top of things, communication skills are very important. I'm constantly communicating with geologists and reservoir engineers, foremen and other people in the field. Other critical skills are problem solving, ability to analyze a situation, gather facts and propose solutions.
Why the team can't survive without me!
My job is important because I manage individual oil and gas wells, as well as the gathering system as whole. I have to maintain current production rates and I strive to bring on new volumes. Most importantly, I am the liaison between the head office and the field.
What I love about my job:
The variety of people I get to interact with. I discuss operational issues with my foremen, assistant foremen and operators to maintain production and add volumes. I also work closely with geologists and reservoir engineers to plan drilling programs, and with pipeline and construction technologists to tie-in and equip these wells. It's a very diverse team, but we all work together to get the job done.
My career path:
I started with CNRL right out of university. There are lots of opportunities here, and I may consider reservoir engineering. There are also lots of young managers at CNRL, so there's potential to progress into a management role. I will be applying for my Professional Engineering designation (P.Eng.) next year with APEGGA. To work as an engineer in Alberta, you need to be a member in good standing with APEGGA, which is the professional organization responsible for licensing and certification of Professional Engineers in Alberta.
What surprised me most about the oil and gas industry:
More diverse than I thought! Many sectors make-up the industry – from oil sands, drilling, thermal and the list goes on! There are so many career options. You can do anything from working for a service company designing downhole tools, or writing frac programs. You can also work in an office setting or a field setting.
Best career advice I ever received:
Never stop learning. Every problem you face and every person you encounter throughout your career can teach you something about the job and yourself.
Company: Canadian Natural Resources Limited
Location: Calgary, AB
Salary: See APEGA Salary Survey
Education: Bachelor of Science – Mechanical Engineering, University of Alberta
Salary, education and advancement may vary from company to company.