news
Day in the Life: Elaine – Chief Geophysicist
Day in the Life: Elaine – Chief Geophysicist
Elaine never imagined working in the oil and gas industry growing up in her home town of Mississauga, Ontario. Upon entering university, she became aware of the exciting world of geophysics, and has never looked back. Her early career in mining as a geophysicist, proved to be the 'foot in the door' she needed to convince oil and gas employers to hire her as a seismic data processor. This position helped her to move into an interpretation role first with Shell, and later with AEC (now EnCana). Elaine now works as a Chief Geophysicist at Enerplus, where she is the principal geophysical advisor for the company.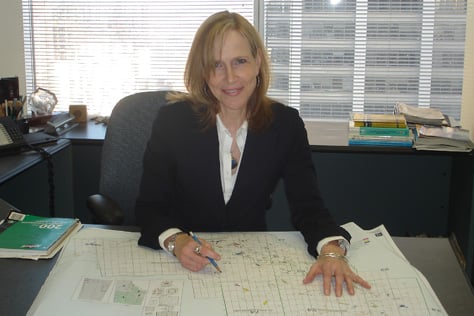 Elaine made sure her professional growth over the years was an integration of other disciplines. "To be successful I needed to have a truly integrated view of the business and the reservoir. I spent a few years learning the tools and approaches of reservoir engineers. I have also committed myself to lifelong learning and have taken a wide range of technical, communication, personal and leadership training over the years." Elaine also credits volunteer work with professional associations such as APEGGA and CSEG for rounding out her leadership skills. This integrated approach, plus a few mentors along the way paved the road for Elaine to learn valuable skills on the job, while further honing her technical skills.
Elaine comments that the combination of people and technology drove her to succeed as a Chief Geophysicist. "I love the people I work with at Enerplus – we all have a passion for the application of science and how it can be used to do business better. In looking back at how my career path has twisted and turned through the years, I am grateful for the opportunities, and for the wisdom in knowing to never give up!"
What I'm working on right now:
We're involved in a non-operating position for a significant project in the U.S. within a very exciting, new shale gas play. It's important for Enerplus to actively engage with our partners, to ensure we are applying geophysical technology in the most effective manner. My role is to ensure the best technical approach is undertaken to give the company and our partners the best chance at defining opportunities and reducing risk.
Work Environment:
I work mainly in an office environment. The work culture is a very respectful environment, with tight-knit teams where everyone is focused and committed to transitioning the company to a growth-oriented, income-yielding oil and gas company. I love working at Enerplus – I truly connect with the vision, values and integrity of the company. This is one of the most exciting companies to be a part of in the oil and gas industry.
Skills I use most in the job are:
Having a strong technical base is important. I have a formal education and training in the acquisition, processing and interpretation of data. Important soft-skills relate to thinking, analysis and communications. You can't be effective if you cannot communicate. In my job, you have to be able to clearly explain to a variety of people why a certain approach will be taken or not.
What I love about my job:
I love the diversity in my role and the opportunity I have to significantly impact the organization. I love working with the many talented people across the organization and the ability to use science to impact the success of a drilling program.
If I could change one thing about my job it would be:
Engaging in good time management is a challenge with such a diverse role and so many different parties looking for my input. I attend many meetings and I want to ensure I impact the outcome of the Enerplus' activities, and not simply satisfying an obligation to attend a number of meetings. If I could change one thing, it would be to attend slightly fewer meetings and focus more on the people and the technology.
Why I chose the oil and gas industry:
The oil and gas industry contributes to the quality of life in our society. It's more than just making money or turning a profit. Our industry truly impacts the quality of life for people, which is very important to me. Without hydrocarbons – we wouldn't be able to function the way our society does today!
What surprised me most about the oil and gas industry:
The industry can be very competitive and companies compete brutally. In the end though, we all relate just the same on a variety of goals – commitment to safety, willingness to share knowledge, and the desire to achieve a better industry overall is impressive.
Best career advice I ever received:
My Dad always told me to aim high – in other words, aim for a career that challenges you, one that will continue to satisfy you as you mature over your lifetime, and ensure you work your hardest to deliver the best results.
My typical day looks like this:
My role is to lead the geophysics discipline within Enerplus. The science of geophysics within the oil and gas industry aims to understand the physical properties of the earth. Seismic data shows the earth's sub-surface, and is used to make business decisions about where to drill oil and gas wells for drilling success.
I ensure geophysicists have a common focus and standards, specifically on the application and appropriate use of technology and science. I ensure our geophysicists and business managers understand how our application of geophysical technology will impact the company. I also act as a check-point, provide mentoring to other staff and sign-off on project approvals.
Company: Enerplus
Location: Calgary, AB
Salary: Starting entry-level salary $64,000 to $200,000 for senior management positions. Also see APEGA salary survey.
Education: Bachelor of Science, Honours in Applied Geophysics from University of Western Ontario
Salary, education and advancement may vary from company to company.