news
Day in the Life: Jackie – Production Field Administrator
Day in the Life: Jackie – Production Field Administrator
A six-month trial period with a local temp agency, led Jackie to a full-time position with Canadian Natural Resources (CNRL) as a Production Field Administrator. Originally from Quesnel, B.C., Jackie says the move to Fort St. John wasn't always easy. "It was hard being away from my family and moving away at such a young age. Fort St. John has about 17,000 people and almost everyone is in the same boat. It's a young town with many young families, and everyone that moves here goes through the same changes together. People come and go, but I really believe it's what you make out of it."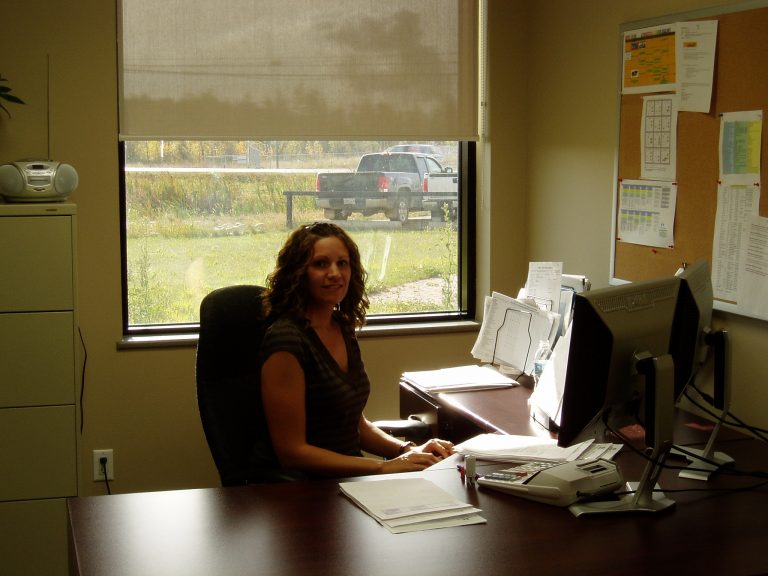 With a little bit of perseverance, Jackie is now quite settled in the community. She leads a fairly picturesque life raising a young son with her husband and their beloved dog, Beaulah by her side. They enjoy activities typical of any Canadian family, only they have their fun in Fort St. John's. On any given day, Jackie and her family can be found camping, doing crafts, swimming, and travelling. "My perfect day is spent curled up with my husband and my son by the fire place, watching the snow fall or seeing a good movie."
A little nudging from her husband helped her break into the oil and gas industry. Jackie recalls, "My husband has had more faith in me than anybody. He encouraged me to go for it and I'm very happy with where I am now! I started bare bones with the temp agency, and received on-the-job training at CNRL. It really was a learn as you go environment."
My typical day looks like this:
Right now, I'm working on Production Volume Reports (PVR), which involves data entry for field reports submitted by Operators. They report on important well production and enhancement activities such as oil and gas volumes, monitor pressures and compressors, and read gauges and meters at well sites. I could be dealing with approximately 2 to 5 sites at a time, which means processing and data entry for 30 battery reports on any given day. Production Accountants will then use the data I've entered, to manage financial and production data for the company.
Work environment:
As a Production Field Admin, I mainly work in an office setting. It's a desk job and most of my day is spent doing data entry, or helping out where needed. I have regular working hours, and I'm able to make it home to prep dinner for my one-year old son. When I first started working with CNRL, there weren't many women in my office, but that certainly has changed. Now there are about 25 women working in the lands and safety departments, and in technician and supervisor positions.
Skills I use most in the job are:
Accuracy with data entry, problem solving, and meeting deadlines. Computer literacy is important, because everything I do is on the computer. You also have to be quick on your feet when Operators call. It's a very straight-forward position that most people can do.
The kinds of problems I solve at work include:
Sometimes there are mistakes in reporting, and I'll often catch discrepancies in the reports.
Why the team can't survive without me!
I'm a great multi-tasker and I always help out in other areas when needed. I have done most positions around the office at one time or another.
What I love about my job:
The work environment is great, as are the people around me. I feel satisfied at the end of the day, having achieved all daily responsibilities and meeting my deadlines.
If I could change one thing about my job, it would be:
Better communication. It's not always the greatest with field employees, but we all try our best.
My best 'pat-on-the-back' moment at work:
Being able to jump into another desk/position when in a crunch, as well as maintain my own workload. Team work within the office plays a huge role in being successful. We always make sure to have a lot of fun!
My career path:
I feel as though I have already succeeded. I enjoy what I do and everyday is a learning experience. My family is very important to me, and I don't see myself making any career changes in the near future but only time will tell.
Why I chose the oil and gas industry:
It's an ever growing industry and is full of opportunities. When I moved to Fort St. John almost five years ago, I soon realized the options within this field of work. By believing in myself and on-job-training received from others, I soon advanced from a temporary position as an Administration Assistant into a permanent position as a Production Volume Reporting Clerk.
What surprised me most about the oil and gas industry:
How volatile it is. It's an industry that is constantly changing and there are many factors such as pricing, that impact oil and gas volumes. Even though the industry has it's ups and downs, my day-to-day work is not really affected by it. There's still work that needs to be done.
What inspires me most at work:
Results…I thrive on balancing. It's a great feeling to go home at the end of the day knowing I've done the best I can.Best career advice I ever received:Do what makes you happy.
My life's mantra:
Anyone who has never made a mistake has never tried anything new.
Company: Canadian Natural Resources Limited
Location: Fort St. John, B.C.
Salary, education and advancement may vary from company to company.