news
Day in the Life: Jordan – Internal Health and Safety Advisor
Day in the Life: Jordan – Internal Health and Safety Advisor
There are many reasons people decide to make a career change. For Jordan, the day he chose to reassess his career, was also the day he was laid off from his role as a heavy duty mechanic. He took the opportunity to follow his passion for adventure, people and technology – by returning to school and completing a Health, Safety and Environment Certificate from the University of Calgary. Jordan's previous experience in the oil and gas industry initially peaked his interest in health and safety and now, four years later, he is happily working as an Internal Health and Safety Advisor* at Enform, the safety association for Canada's upstream oil and gas industry.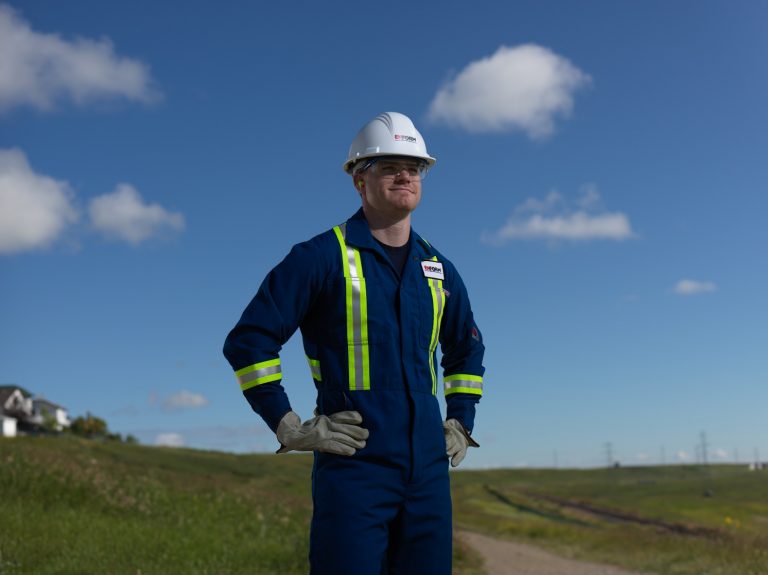 As a health and safety advisor, Jordan offers his expert knowledge and skills to promote a positive health and safety culture within Enform.  It is his responsibility to provide quality support and advice to executives, managers and employees. His role allows him to be a safety resource for his colleagues, contractors, students and visitors onsite so they can all get home safely at the end of the day. Jordan says that by instilling positive safety reinforcement and guidance, everyone can commit to working safely.
Jordan states he was attracted to the oil and gas industry because he wanted to be part of an increasingly competitive, dynamic and exciting industry. "I truly believe the reason I chose to work in the oil and gas industry is related to following my passions," says Jordan. "The oil and gas industry is increasingly competitive and it's also increasingly dynamic and full of opportunities, which is what really drew me in. I am extremely goal driven and decided that working in this environment could challenge me to continue to grow professionally and also provide a comfortable standard of living for my family."
My typical day looks like
I don't know that there is a typical day! It really varies. I am responsible for development, implementation and support of Enform's Health, Safety (H&S) management system. This includes:
Collaborating with colleagues on H&S matters and acting as a main contact between workers and management
Sending out H&S communications and follow-up to safety-related concerns to all staff
Developing, organizing and instructing employee H&S training
Leading the corporate materials needed for H&S committee meetings
Updating Enform's Emergency Response Plan (ERP)
Preparing H&S strategies and analyzing trends in safety and safety-related incidents
The kinds of problems I solve at work include
The biggest challenge for any Health and Safety Advisor is making people aware that everyone is responsible for their own safety. It's not the sole responsibility of the Health and Safety Advisor or any one department – it's everyone's responsibility to play a role in health and safety. I love the challenge of building people up and creating an environment that is conducive to this mentality.
Skills I use most in the job are
The biggest asset in my job is being able to relate well to people whether it is with management, other employees or contractors. Interpersonal skills are by far the most important skill within my role. This includes the ability to motivate and influence others, collaborate, and manage conflict. Some other necessary skills include:
Analytical and  creative problem solving skills
Organization
Effective written and verbal communication
Computer and technology skills
Stress management
Attention to detail and high level of accuracy
Best Career advice ever given
"When you're wrong, admit it. When you're right, be quiet."
*Recently, Jordan was promoted into a Program Advisor role within the Health and Safety Training group at Enform. Congratulations Jordan!
Company
Enform
Location
Calgary, AB
Salary
$70,000 – $100,000
Education
University/Bachelor degree or diploma in Health, Safety and Environment, and Canadian Registered Safety Professional (CRSP) designation.
Salary, education and advancement may vary from company to company.