news
Day in the Life: Lance – District Landman
Day in the Life: Lance – District Landman
Lance sent several applications to Canadian Natural Resources (CNRL), following the motto: if at first you don't succeed, try, try again. His persistence eventually paid off when he secured a job with CNRL as a Landman. Nine years later and still going strong, Lance worked his way up into his current role as a District Landman. The job suits him perfectly, and has close ties to the rural farmers and landowners he frequently works with. "I am definitely not a city boy. I was born and raised on a farm, so I definitely can relate to the ranchers I visit."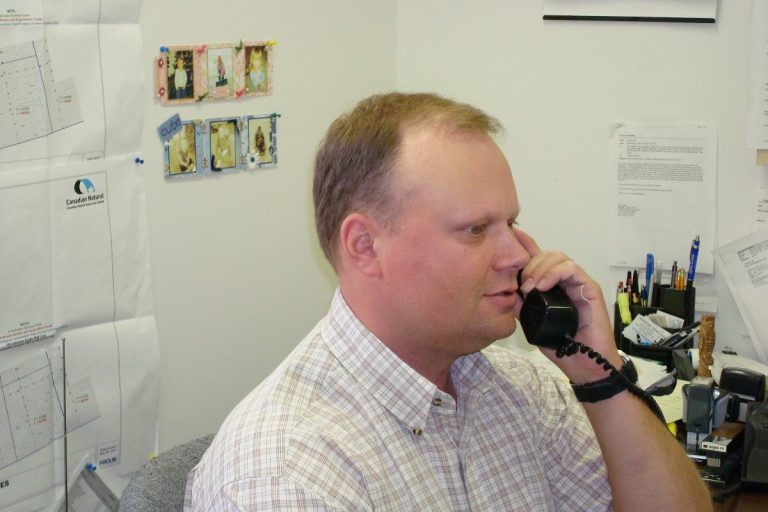 Landmen work with the public, landowners, First Nations, regulatory bodies and other stakeholders, to deal with any questions or concerns they might have about oil and gas operations in their community. If there are problems or oppositions to projects, he participates in a dispute resolution process facilitated by the Energy Resources Conservation Board (ERCB). Lance describes, "It's really important to listen and understand what people's concerns are. The red-carpet isn't always rolled-out, and having thick-skin certainly helps."
While there are obvious challenges, Lance takes everything with a grain of salt and often sees the upside to the industry. "I find inspiration in my relationships with co-workers and the fun work environment at CNRL. I also get satisfaction from supervising and mentoring other landmen. Seeing them excel makes me realize that it's not just about me, but who is improving around me."
My typical day looks like this:
I start between 7:30 am to 8:00 am. My job involves supervision of surface landmen in the southern areas of Alberta, Saskatchewan, and Manitoba. Surface landmen typically work in the field to visit a landowner or attend a meeting. When I'm in the office, my focus is managing the acquisition of wellsites, pipelines and facilities. To stay in touch with the projects, I use email correspondence and phone calls with the service providers and area landmen responsible for the projects.
Field operations and landowner calls definitely keep you busy. Landowners call in requesting rental reviews and field operations require our assistance in getting surveys of old access roads. Communicating with the technical teams, such as geologists and production engineers is also imperative to the role.
In the field, you may be acquiring a pipeline easement or surface lease with a landowner, or simply settling a claim. At other times you may be meeting with a land user specialist from Alberta Sustainable Development or an ERCB representative for an ADR (appropriate dispute resolution) meeting.
Work environment:
Surface landmen spend about half their time in a vehicle travelling, either to field offices or visiting landowners. It's not a typical 9-5 job, and there can be long hours at times. It can be just like any other job, where you put in extra hours on some days, and other days where you can clock out at a reasonable time. Most surface landmen work in Calgary.
I was single when I started in the industry, and didn't have any kids to look after. Achieving balance can be a challenge, as are eating right and exercising. I'm always busy, and I have to make myself and my family a priority. It's just a part of life.
Right now, I'm working on:
Going over the drill schedule and which locations are not yet ready for our fourth quarter oil drilling program. We are waiting for some crossing and proximity consents from an irrigation district.
Skills I use most in the job are:
Communication skills and the ability to manage expectations. As a landman, you need to be a good listener to understand the concerns of stakeholders and landowners. It's important to see where they are coming from to deal with their concerns. Paying attention to timelines is critical, especially when managing the acquisition or surveying of programs. Since rigs are contracted for certain times of the year, you need to have the land in place, to avoid delays when the rigs and equipment arrive. It is very important to execute drilling programs on-time. Working effectively with land brokers and surveyors is key to ensuring priority locations are dealt with, and the appropriate man power is used.
The kinds of problems I solve at work include:
Troubleshooting problems with missing rental payments to landowners. This doesn't happen frequently, but on occasion cheques go missing and then the fun of tracking what happened starts. Typically as a landman you would get in touch with the land administrator to resolve.
Sometimes, there can be equipment failures such as pipeline breaks. Landmen are the first line of contact when something like this occurs, and are responsible for notifying the landowner immediately. Landmen will advise on the action steps the company is taking to rectify the situation, and / or if any compensation will be awarded.
Why the team can't survive without me!
No one can depend solely on themselves to be successful, but basically I'm that person who can deal effectively with landowner or stakeholder concerns. I let the operations people do their job and concentrate on making sure equipment and wells are functioning to their maximum potential, while I deal with the public. The same goes for the technical teams, who are responsible for finding oil and gas prospects to drill. Once prospects are found, I'm the one that gets us access to the land.
What I love about my job:
I like the interaction with my co-workers and helping the company achieve their corporate goals. If we are able to deliver a successful drilling program, it gives me satisfaction knowing that we played a part.
If I could change one thing about my job, it would be:
Unfortunately, not everyone loves the oil and gas industry. As a landman, you can be exposed to verbal abuse from some stakeholders. We all deal with stress in our lives, and landmen in particular have to find the balance or they'll burn out. To manage this, I'll go riding or spend time with my family. I also own and manage a small ranch to keep me occupied.
My career path:
I see myself working as a landman for another 10 years. In order to survive in todays environment, it's critical to keep up with the ever changing legislation and environmental concerns. Taking courses related to the profession is now mandatory under the Land Agents Licensing Act. Constant professional development will ensure that I'm up-to-date with changes in our industry and profession. It's also good practice to network and attend meetings held by professional associations such as the Canadian Association of Professional Landmen (CAPL) and the International Right of Way Association (IRWA).
What surprised me most about the oil and gas industry:
I was surprised by how dependant our whole economy is on the oil and gas industry. Alberta in particular, prospers and suffers depending on how the oil and gas industry is doing.
Major life accomplishment:
Getting married and when my wife gave birth to our children.
Company: Canadian Natural Resources Limited
Location: Drumheller, AB
Education: Olds College, Land Agent Diploma
Salary, education and advancement may vary from company to company