news
Day in the Life: Sue – External Relations Manager, Social Performance
Day in the Life: Sue – External Relations Manager, Social Performance
For Sue, working in Canada's energy sector has always been about more than energy. It's also been about people, community and sustainability.
"I started my career working for Shell Canada over 20 years ago, knowing that I wanted to work in sustainability with community as a focus," Sue says. "The prospect of understanding how people and communities are impacted by major resource projects over generations is compelling."
A typical day
Based in downtown Calgary, Alberta, Sue's normal day is often a mix of meetings with colleagues. Their main priority is on how and where the company will invest in communities where it operates. They review requests, proposals and budgets. Typical tasks also include logistical and communication planning for upcoming program launches and events, as well as assessing the risks and opportunities of their activities.
Sue travels a few times a year to meet with colleagues, social investment partners and community members. Once a year she joins an international audit team for two weeks to review, assess, validate and recommend improvements at other Shell sites and operations.
Focus on transferable skills – a winding journey
Sue began her career at Shell in its retailer call centre. She went from the downstream sub-sector of the business into the upstream, supporting social performance in oilsands operations. She's also worked overseas and with local communities in conflict zones in Colombia and Iraq. Since then, she's followed what she calls "an interesting path" to become the manager of External Relations, Social Performance.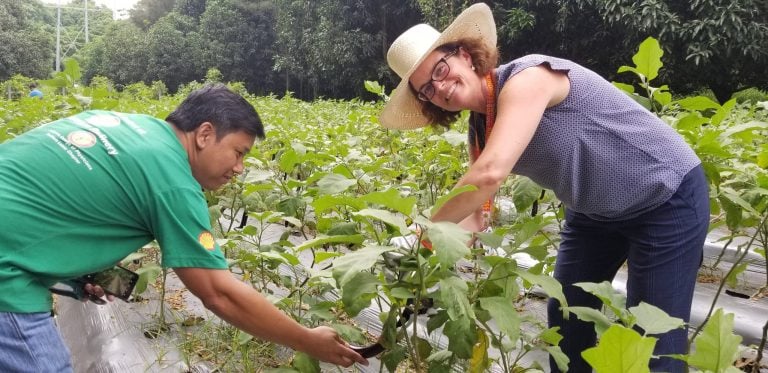 "The skills you need in social performance are not that different from what you need in a call centre," Sue says. "You have to be able to listen well, resolve conflict and work in 'solution mode'."
She finds other skills and qualities equally valuable: collaborating, critical thinking, active listening, negotiation, empathy, communication and courage.
Throughout her career, Sue has worked to build and broaden her skills. Each year she takes at least one formal training course. Currently she's in a leadership training program at Shell. Her goal is constant: to better understand how companies can partner with communities to provide immediate and lasting opportunities.
"We look at what a community is going to need in three years', five years' or 10 years' time," she explains. "We often work with people to understand their community vision and find opportunities to make strategic investments."
These investments vary. It could mean providing training for workers in a community. Sue's team also works closely with their colleagues in contracting and procurement to ensure Shell is continually focused on sourcing local products and services, including from Indigenous communities.
"The skills you need in social performance are not that different from what you need in a call centre. You have to be able to listen well, resolve conflict and work in 'solution mode'." 
Sue, Bachelor of Arts, Economics and Master of Arts, Development Economics
Life-changing investments
Sue recalls one of her most memorable Shell investments. Working in collaboration with a First Nation's economic development advisor, they identified the need for a driver training program in in Fort Chipewyan, Alberta. Shell hired instructors and facilitated drivers' tests for about 40 community members.
"It was a point of pride for people to say they had gotten a driver's licence. It also meant they could get a job and . . . go on vacation or go to other urban centres. And it made the community safer for everyone," Sue says. "As much as I get to work on macro-level benefits to communities, it is personally rewarding to learn how an opportunity changes someone's life."
After more than two decades at Shell, she also appreciates the investment the company has made in her.
"I've changed careers about every four years and never left the company," Sue says. "It's been a tremendous opportunity to work with Shell in the energy sector, because you can go from working in a call centre to becoming a manager of social performance."
Company
Location
Calgary, Alberta
Salary
$82,000 – $176,000
Education
Bachelor of Arts, Economics
Master of Arts, Development Economics
Salary, education and advancement may vary from company to company.