news
Day in the Life: Tim – Field Operator
Day in the Life: Tim – Field Operator
Tim worked in all areas of the oil and gas industry before switching to a career in agriculture, where he stayed put for 15 years. He eventually found his way back to oil and gas and recalls, "The technology and practices used in the field have greatly improved. I left agriculture for a secure job in an industry that would be here tomorrow. I took Field Operator courses at SAIT, hoping oil and gas employers would take me seriously. Operating seemed to offer a challenging career that set high expectations for me."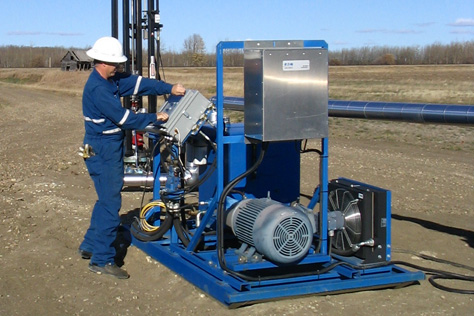 Work Environment:
I spend most of my day out in the field, driving around from site to site in the company truck. Since I cover 2 field runs, I have to be on call and carry a pager in case anything comes up. When I get a call, I usually know what the problem is and how to fix it right away. I work 8 days on and 6 days off, with a regular 10 hour, 8:00 am to 6:00 pm shift. The first winter on-the-job can be difficult, but eventually you get used to it. There is some flexibility and like anything else in life, there is always some planning and juggling when you have a family. I have two young kids and I'm able to enjoy activities, like coaching minor hockey or helping out at the local rodeo each year.
Skills I use most in the job are:
Mechanical aptitude and ability. Knowledge of computers is helpful, which play a major role in our day to day operations.
Why the team can't survive without me!
What I do daily has the largest impact on individual well performance. Without me, there are no wells flowing and no gas going to the plant.
What I love about my job:
Outdoors and independence. Our foremen are great, and we're given enough responsibility to feel pride in our jobs.
My career path:
When I applied for a job with CNRL, I was afraid I was a little to old to be changing careers. I spent 15 years in agricultural retail before coming to work at CNRL. I was really surprised at the variety of backgrounds people came from. The fellow that interviewed me was born and raised on a First Nations reserve near the plant and worked as a mechanical apprentice. Others came from forestry, farming and trucking industries.
I took a Field Operations course at SAIT by correspondence before applying. I wanted to show that I was actually serious about working in the industry and not just kicking tires. CNRL emphasizes education and it is backed up with promotions as you complete courses and put in enough time at the job.
What surprised me most about the oil and gas industry:
I was very surprised by the amount of responsibility that is given to individuals who are looking for a challenging career.
My best 'pat-on-the-back' moment at work:
I've been at CNRL for 2.5 years and had started the Field Operations course, but just dragged my feet with it. Eventually I finished the course and received a raise. My supervisors mentioned this to others, and I really felt a sense of accomplishment.
Major life accomplishment:
Buying the acreage, and building a place in the country for my family.
Company: Canadian Natural Resources Limited
Location: Knopcik Area (North and West of Grande Prairie, AB)
Salary: See PSAC Occupation Profiles for average Field Operator salaries.
Education: Grade 12, SAIT Production Field Operator Certificate.
Salary, education and advancement may vary from company to company.