news
Exploring LNG in Canada: On-site construction
Labour Market Information
Exploring LNG in Canada: On-site construction
Last week, we released three labour market outlooks. Today, we dive into one of them to find out more about Canada's potential liquefied natural gas (LNG) sector and it's impact on Canada's workforce. It's time for Exploring LNG in Canada! 
In Canada, 23 LNG export projects have been proposed to date: 19 in British Columbia (B.C.), one in Quebec and three in Nova Scotia. The conversion of New Brunswick-based Canaport LNG from an LNG import facility to an export facility is also under consideration.
In addition to these projects, six new or expanded pipeline projects have been announced in B.C. to provide the infrastructure required to connect natural gas produced in northeast B.C. with the LNG production facilities proposed on the province's west coast. No new pipelines are proposed on the east coast.
Exploring LNG in Canada provides an overview of the construction, upstream, midstream and downstream labour that will be needed if the construction of one large-scale two-train LNG facility and one medium-scale two-train plant move forward before the end of 2020.
Our first LNG blog will focus on the labour demand requirements of the on-site construction sub-sector.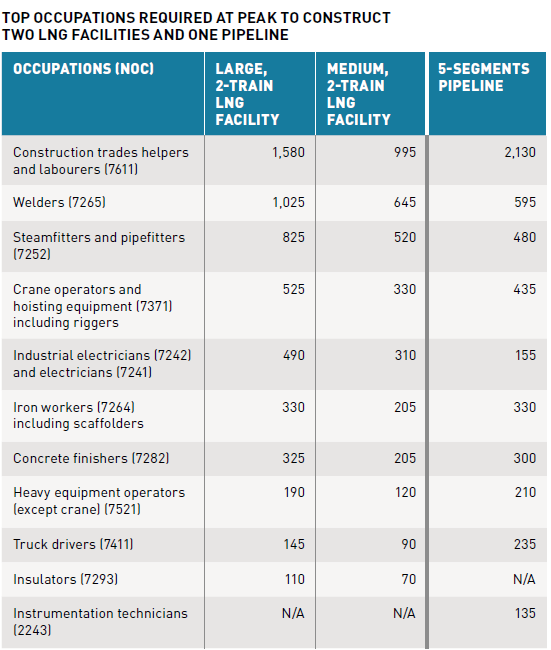 On-site Construction 
The on-site construction phase alone could require between 3,300 and 5,200 workers at peak, depending on the scale of an LNG project. In addition, assuming one pipeline project moves forward in B.C., on-site workforce requirements would peak at about 4,300 workers in the third year of its construction timeline.
The table to the right identifies the peak demand for the top occupations required for construction of two LNG facilities and one pipeline. Most construction occupations are not required for the complete construction timeline, so demand for occupations will peak at different times, depending on the tasks they are performing.
---
Tomorrow, we look at the labour demand requirements for the upstream and midstream sectors required to support the LNG sector. Stay tuned!
Did you miss the release of PetroLMI's labour market outlooks last week? You can find out more about them in last week's blog post!