news
New oil and gas infrastructure projects mean construction jobs
Career Planning
Labour Market Information
New oil and gas infrastructure projects mean construction jobs
Direct employment in the oil and gas industry tends to be concentrated in both Western Canada and Eastern Canada – generally where production occurs. Indirect employment, however, is widespread, as the industry sources goods and services from across Canada. In 2017, Canada's oil and gas industry spending generated approximately 178,000 direct jobs, and more than 350,000 indirect jobs.
Spending by the oil and gas industry contributes to many construction jobs in Canada. In fact, construction makes up nearly one-third of the indirect jobs created by oil and gas – or 107,000 jobs. With reduced spending in recent years, construction jobs have been lost, but upcoming infrastructure investment will provide some relief.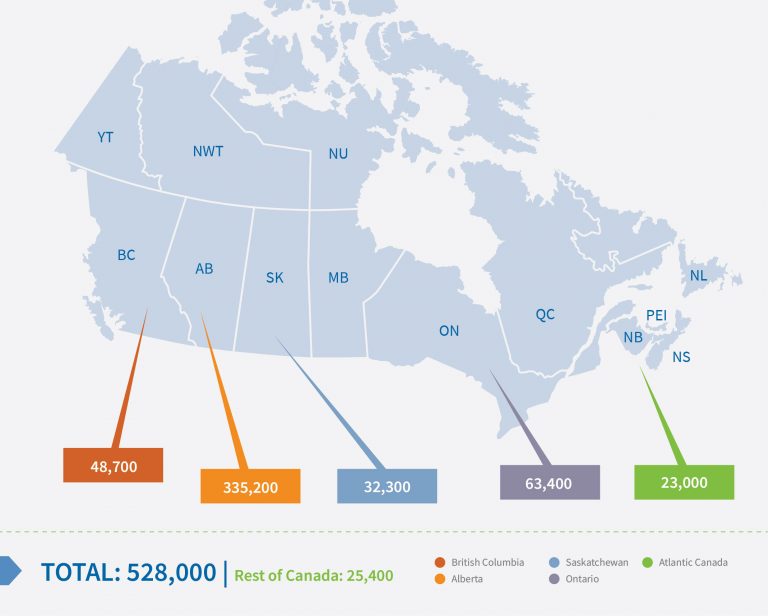 As you might have seen in our earlier post Investment in new natural gas infrastructure will create jobs, the Liquified Natural Gas (LNG) industry will need thousands of workers to plan and build the infrastructure to transport, transform and export LNG to new international markets from terminals in British Columbia. LNG Canada is preparing to build an export facility in Kitimat, B.C., that would include two LNG processing units, referred to as "trains." It's estimated that 4,500 workers will be needed onsite by 2021 during peak construction.
Construction on the related 670-kilometre Coast GasLink pipeline started in January 2019 and plans are to hire up to 2,500 workers during the four-year construction period. This pipeline will deliver natural gas resources to the LNG terminal in Kitimat and its processing trains. Meanwhile, once the Trans Mountain pipeline expansion project is approved, approximately 5,500 workers will be needed during the peak construction period of that pipeline project.
Opportunities in B.C.
All three of these construction projects require skilled labour, resulting in thousands of jobs for British Columbians. The province is already experiencing a boom in non-residential construction. BuildForce Canada estimates that by 2021 over 13,000 workers will be needed from outside the province or from other industries, in order to meet the demand.
Jobs across Canada
New construction opportunities east of the Rockies will come from two petrochemical facilities and a methanol processing facility.
Inter Pipeline's Heartland Petrochemical project will employ 2,300 workers during its four years of construction. A similar project is being built by Pembina Pipeline and expects to employ 3,000 workers onsite over the next four years.
In Grande Prairie, Nauticol Energy is constructing a methanol processing facility this year which will create about 1,000 jobs. The company also has plans to construct a similar facility in Bécancour, Québec starting in 2020.
In Nova Scotia, construction for Pieridae Energy's Goldboro LNG project could also start this year and will require approximately 3,500 workers at its peak. In Newfoundland and Labrador larger projects are wrapping up, so construction jobs are expected to decline.  However, if a major project such as the Bay du Nord was sanctioned, the losses could be minimal.