news
New spotlights are here!
New spotlights are here!
Last month, we launched the first phase of our Careers in Oil + Gas online tool. We said we would be adding new resources over the coming weeks and months – and today, we are delivering on that promise! Over the next month, you will see the addition of Occupation Spotlights, downloadable PDFs, for careers in the tool. These spotlights provide a day-in-the-life glance at careers in the oil and gas industry. And, they are print-friendly!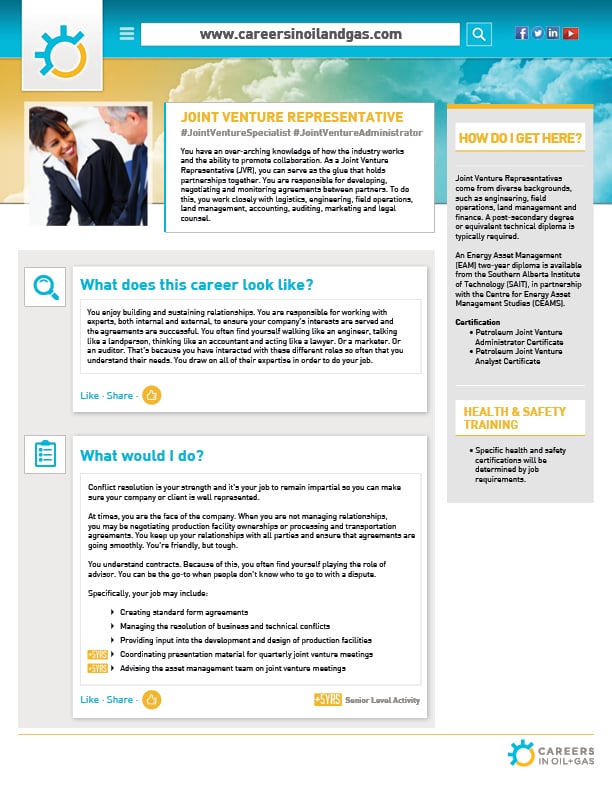 In some cases, you'll see a spotlight that describes a broad group of occupations; in other cases, you'll learn about individual jobs. Either way, you'll find the answers to questions such as "What does this career look like?", "What would I do?" and "How do I get here?" You'll also find out about some of the skills and knowledge you'll need to be successful. You might be keen to discover what other oil and gas careers you can move into, or to explore what other sectors you can transfer to by looking at the Pathways section.
This week, we focus on the Business and Operations Support job family. Read on to find out more.
Business and Operations Support includes a wide range of occupations that support various aspects of oil and gas activities, such as asset management, health and safety, regulatory affairs and stakeholder relations.
Occupation Profiles
In our tool, we focus on the following occupations that make up the Business and Operations Support job family:
Let us know what you think! We value your feedback.
Check out the occupation spotlights for the Engineer job family in the next few weeks!