news
Short Term Survey Results
Labour Market Information
Short Term Survey Results
In early February, 36 oil and gas companies, representing approximately 79,000 workers from across Canada, were surveyed about their workforce plans, challenges and opportunities for 2017. Interested in hearing what the year holds? Read on!
Some of the most welcoming news is that nearly 70% of companies said they plan to increase or maintain their current staff levels.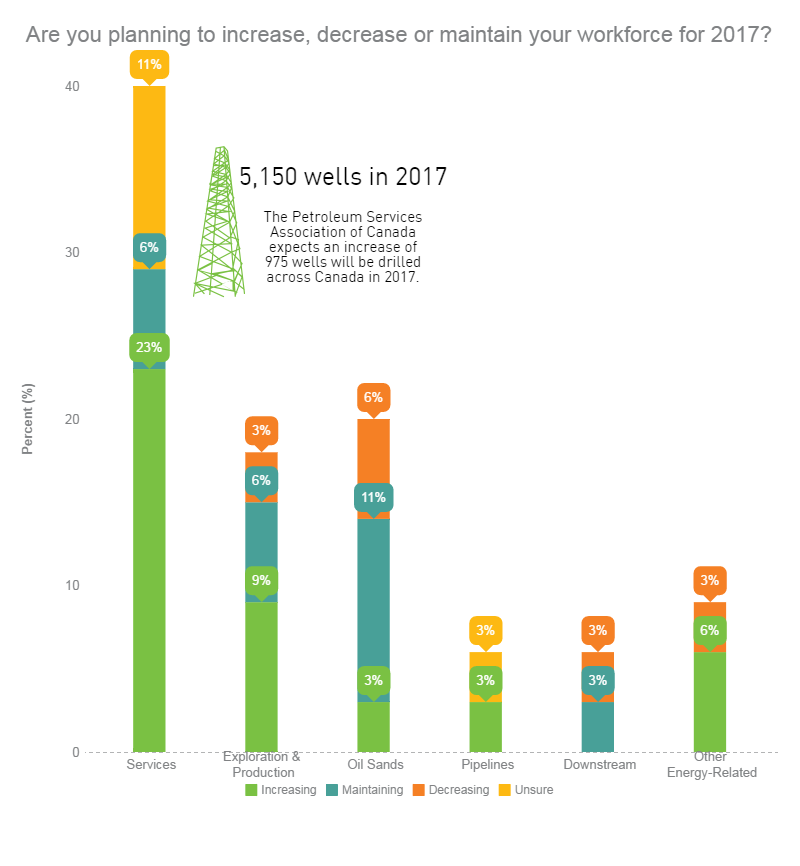 Of those who said they are looking to increase their workforce, expansion, including new projects and startups, increased demand or activity are the primary drivers behind those companies who are looking to increase their workforce.
The top challenges across all of the industry sectors – services, exploration and production, oil sands, pipelines, downstream and other companies related to the energy sector are:
Remaining efficient or lean (52%)
Employee engagement (39%)
Managing or reducing labour costs (30%)
For the services companies surveyed, their top challenge is attracting skilled workers back to the industry, followed by labour shortages in certain occupations.
Companies across all of the sectors are addressing their workforce issues and challenges by:
Internal redeployment/transfers (45%)
Professional development (45%)
Increasing recruitment efforts (42%)
For service companies which are primarily increasing their workforce, 69% are increasing their recruitment efforts and 62% are conducting recalls; however, 31% are still looking to reduce compensation.
Essentially, there are jobs in demand across all categories: Geoscience Professionals and Engineers (all types), Technicians and Technologists, Trades people (electricians, instrumentation technicians, millwrights, including those in maintenance-related roles), Operators (process operators, particularly power engineers, truck drivers, fracturing and cementing operators), Business and Operations Support (different functions such as IT, H&S, HR, etc.) and Field Workers (primarily rig positions).
The survey findings suggest there's renewed optimism within the oil and gas industry but some respondents are quick to point out that their plans are dependent on oil price and market conditions stabilizing, if not improving. Read the facts here!
Watch for our Labour Market Outlook for Canada's Oil and Gas industry to 2021 to be released this spring!