news
Taking a peek at 2020
Labour Market Information
Taking a peek at 2020
Last week, we launched the Oil Sands Construction, Maintenance and Operations Labour Demand Outlook to 2020 report to provide insight into the longer-term hiring requirements in the oil sands sector. What did we find?
For the first time, the oil sands sector is shifting from a phase of growth and expansion to a phase focused on improving the reliability and performance of existing operations.
The growth of 5,170 operations and 4,700 ongoing maintenance jobs will be offset by a decrease in demand for about 10,305 on-site construction workers.
At peak, the oil sands sector will still require about 38,000 construction workers annually to maintain efficient operations
So what occupations do we expect to see in demand in the next four years? Read on and we'll show you!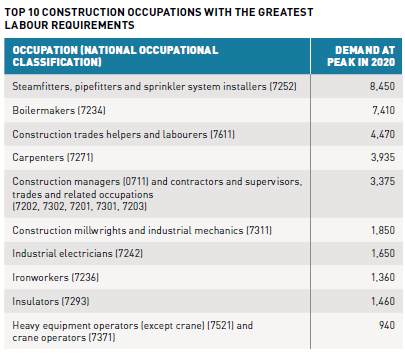 The top 10 in-demand construction occupations listed below account for 94 per cent of oil sands on-site, module fabrication, and ongoing and turnaround maintenance workforce requirements in 2020. And, as a plus, some of the occupations listed below are  transferable between construction types. For example, steamfitters, pipefitters and sprinkler system installers are highly transferable between module fabrication, on-site construction and maintenance.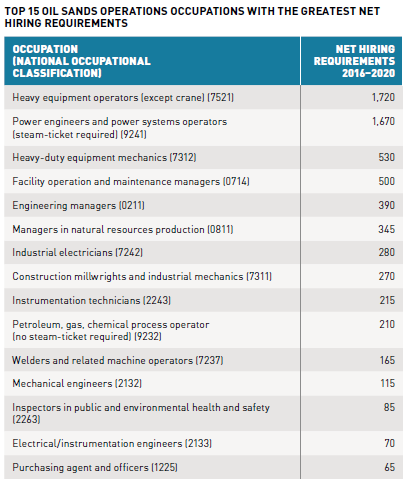 A total of 15 oil sands operations occupations account for 75 per cent of the sector's net hiring requirements and are likely to be the focus of company talent acquisition strategies going forward. Net hiring requirements include hiring due to industry activity and age-related attrition. Not surprisingly, many manager and engineering roles are expected to see high rates of retirements, so companies are likely to focus on those types of occupations in succession planning.
Want to know more? Read the report!