news
Day in the Life: Kerria – Health, Safety and Environment Advisor
Day in the Life: Kerria – Health, Safety and Environment Advisor
Kerria landed her current role as a Health, Safety and Environment Advisor (HSE Advisor) with CCS Midstream (CCS), after hearing about the tremendous growth potential in the industry from her peers. She applied aggressively for positions, but came up empty on several occasions, finding many employers required previous oil and gas experience. Kerria however never gave up on her job search and her big break came when CCS hired her on as a receptionist six years ago. "A lot of companies wanted oil and gas experience at the time, but CCS took a chance on me and it's been history every since!" Kerria recalls, "Starting in an entry-level position as a receptionist was the best opportunity to get to know everyone in the head office and in the field. I was always encouraged and the opportunity was there, so I took it. It was a much smaller company at the time and intimidating at first, but I've been able to do a bit of everything and learn the business inside and out."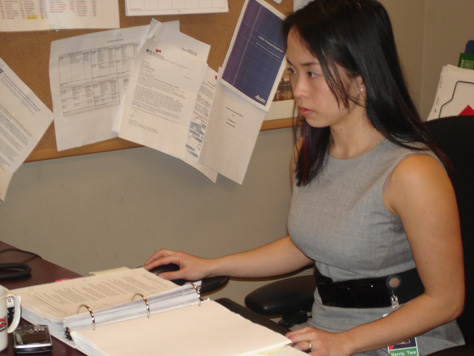 With fierce determination and a willingness to work her way up in the company, Kerria has fully transitioned into the HSE Advisor role, where she is the point person for health, safety and environment audits, regulatory compliance and emergency response planning. Her current role may seem like a far cry from her early days in marketing, however she readily transfers these skills on a daily basis. "I have come full circle and essentially, everything I do is marketing. Only now I market internally to my co-workers about health, safety, compliance and its importance in what we do."
Kerria's commitment to continuing education has also provided leverage in growing her career. She recently completed all of the requirements for the Certificate of Occupational Health and Safety through the University of Alberta, and also successfully passed the examination for the Canadian Registered Safety Professionals Designation (CRSP) designation this May.
My typical day looks like this:
My job revolves around internal health, safety and environmental and regulatory compliance. CCS specializes in the responsible and environmental treatment, recovery and disposal of petroleum by-products used in the drilling and production process. We operate an oilfield waste management facility, where we accept waste from generators. On any given day, I answer questions from guys in the field about waste acceptance (what can and cannot be accepted) and help them interpret regulations.
I regularly conduct site audits which might involve noise level testing, fit testing for respirators and job site inspections. I also work with field crew conducting safety training and safety meetings. I make sure everyone is wearing the appropriate safety gear, using the right equipment, following regulations and ensuring the site is in tip-top shape.
A big part of my job is to ensure compliance with regulatory and government bodies such as Alberta Environment and the Energy Resources Conservation Board (ERCB). Essentially, I act as the buffer between regulators and the people at our job sites. I am also involved in our Corporate Emergency Response Planning, which involves pro-active planning for response in a crisis situation. People are our utmost priority and our company strives to protect workers so they get home safe and sound to their family and kids. EH&S is often viewed as a 'policing' role, but it's not about that at all. EH&S professionals are really a resource and support role to protect workers and the public.
Work Environment:
I work in an office in downtown Calgary, with typical hours from 8am to 5pm. Most of my time is spent in the office and approximately 10% is in the field. I have travelled all across eastern and western parts of Alberta and the interior of Saskatchewan. Out in the field, the guys are stellar and professional. As one of the few women from Corporate visiting in the field, I have never felt out of place, though at first you do have to learn to adapt to the more laid back field environment.
Skills I use most in the job are:
Listening and communication skills. To succeed in this role, you have to listen and understand the needs of the crew. Sometimes it's a negotiation process, but in our company – compliance is extremely important. Communication skills go a long way in developing an understanding with co-workers to help build tools and resources that are both practical and safe for them. I would also say written communication, especially technical writing are important in developing complex safety reports.
What I love about my job:
The people! The relationship I've built with our field operations is definitely the best part of my job. If I can support them or provide them with guidance to make their difficult day easier, then I know I've done my job. Relationships with our field operations are essential – I find everyone so supportive and we like to have fun!
If I could change one thing about my job, it would be:
This is a large company and because of the many hats I wear in my job, more job specialization would be great. However, I wouldn't give up the many experiences I've learned in my job.
Why the team can't survive without me!
A team that cannot survive without one member is not a team. It's a huge team effort and we rely heavily on each other for cover-off and support. However, I do believe my role is critical as the liaison between the field and the regulators.
My best 'pat-on-the-back' moment at work:
I was in the field performing audits and one of our facilities received a surprise inspection from a regulator. I was called over to the site and was able to help the guys with their documentation and answer the regulator's questions. It was a great experience and I know the manager was very appreciative of my assistance.
What surprised me most about the oil and gas industry:
The number of opportunities and the career potential in this industry. The oil and gas industry is as great as they said it would be! There are so many different disciplines and really great opportunities here that you just wouldn't get elsewhere. I don't know anyone that has left oil and gas once they get into the industry. My advice to those starting without any oil and gas experience is to find petroleum-related courses. Being vigilant in sending your resume will go a long way and someone just might take a chance on you. Be creative and tenacious!
Best career advice I ever received:
Pursue a career in oil and gas!
Company: CCS Midstream Services
Location: Calgary, AB
Salary: See Canadian Board of Registered Safety Professionals Salary Survey for average salaries.
Education: Diploma in Business Administration, Major in Marketing from SAIT
Salary, education and advancement may vary from company to company.