news
Day in the Life: Souk – Field Technologist
Day in the Life: Souk – Field Technologist
Before coming to work for the oilpatch, Souk shared the same curious vision most non-oil and gas people have about how you get oil and gas out of the ground. "I always thought you drilled, and oil and gas just came out of the ground! I'm always amazed at the amount of research required to produce a well. It's definitely not a one-person show and is very integrated, made up of many companies and people to keep it going."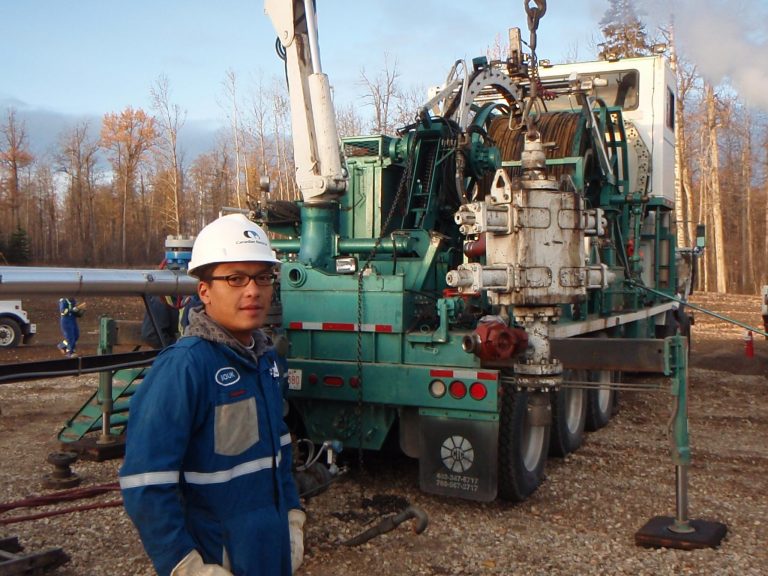 Having worked in the industry as a Field Technologist with Canadian Natural Resources (CNRL) for the past 3 years, Souk's view of oil and gas operations has certainly broadened. Souk is now at the very centre of it all, keeping tabs on daily production for producing wells. His job is to monitor wells and ensure they are producing at their maximum capacity. This surely keeps Souk busy, and he comments, "I love not being bored! I'm always involved in a wide variety of projects, and I'm able to see the effect my recommendations have in workovers. I really like the people at CNRL, which fits with my own attitude and how I operate."
Right now, I'm working on:
Writing and scheduling service rig programs that need to be completed before freeze up and the winter months. One of these jobs is a regulatory issue and has been given priority before the weather affects lease access.
Skills I use most in the job are:
Research and petroleum / production engineering skills. The majority of my work deals with evaluating production problems on older producing wells. The majority of problems are unseen and are usually down hole issues. Detailed data gathering is required to ensure we are addressing the correct problem, and prepared for any unexpected circumstances. You really have to think outside of the box!
The kinds of problem I solve at work include:
Water loading issues for older producing wells. Mechanical issues with downhole pumping equipment and tubing assemblies. Wax and unknown debris plugging tubing strings. Logistics issues moving equipment and rig consultants throughout the district. Dealing with regulatory compliance issues.
Why the team can't survive without me!
The production tech role is a field based position that puts me in the middle of the action. Being able to work directly with field personnel and service vendors, most production issues are resolved very quickly without engineering support required. Great efforts are made to do the job right, safely, and with minimal costs.
What I love about my job:
I love my job because it is so dynamic. There is always a learning curve and the pace is as fast and as quick as you want to make it. Being in a production-based role, I can also see the results of the work I am performing.
If I could change one thing about my job, it would be:
To minimize the paperwork.
My career path:
I worked as a Millwright/Industrial Mechanic prior to becoming a Production Technologist. I went back to college and chose a Mechanical Technologist program because it suited my interests. I wanted to learn more about oil and gas, and decided to work my summers for oil and gas producers. I found that I really enjoyed this industry. When I finished the Mechanical Engineering Tech program, I applied for a field operating position to gain more experience. I then progressed into a production technologist role. My future goal is to move into a higher level role with CNRL.
Why I chose the oil and gas industry:
There were a variety of career paths to choose from and I realized that there was an opportunity to learn and advance in this industry for the right individual.
What surprised me most about the oil and gas industry:
The sheer amount of people and variety of support services required to keep this industry running smoothly.
My best 'pat-on-the-back' moment at work:
I was noticed by upper management for increases in production gained through the optimization role I played in the field. It was encouraging to know that they noticed my work.
What inspires me most at work:
Doing the job right the first time, safely and efficiently. I like the satisfaction of knowing I can control and affect the outcome of what I do.
Best career advice I ever received:
Try new and different career paths. I knew that I would eventually find a career that suited my characteristics. I am fortunate that I currently have a position where I enjoy what I do.
Major life accomplishment:
Going back to my 'roots' and travelling to my home country of Laos. This has always been a goal of mine while growing up in Canada. Seeing under developed parts of the country was a very humbling experience.
My life's mantra:
There is something new to learn every single day.
Company: Canadian Natural Resources Limited
Location: Grande Prairie, AB
Salary: See ALIS Wage Survey for average Field Production Technologist salaries.
Education: SAIT, Diploma in Mechanical Engineering Technology, Petroleum Engineering Technology courses
Salary, education and advancement may vary from company to company.