news
Canada's energy services job vacancies continued to rise in Q3 2021 reaching a new record
Labour Market Information
Canada's energy services job vacancies continued to rise in Q3 2021 reaching a new record
Last month, PetroLMI reported on the surging job vacancies in Canada's energy services sector in the second quarter of 2021 at 4,425  – a trend the industry hasn't experienced in years. That trend only continued in the third quarter of 2021 – with Statistics Canada reporting a new record of nearly 5,500 job vacancies in the quarter.
There were a total of 5,495 energy services job vacancies from July to September 2021, that's more than two and a half times the 2,160 vacancies reported in the third quarter of 2019 – the most recent comparable data for the same period. Two-thirds of the job vacancies (3,655) were in Alberta.
Figure 1: Job vacancies in Canada's energy services sector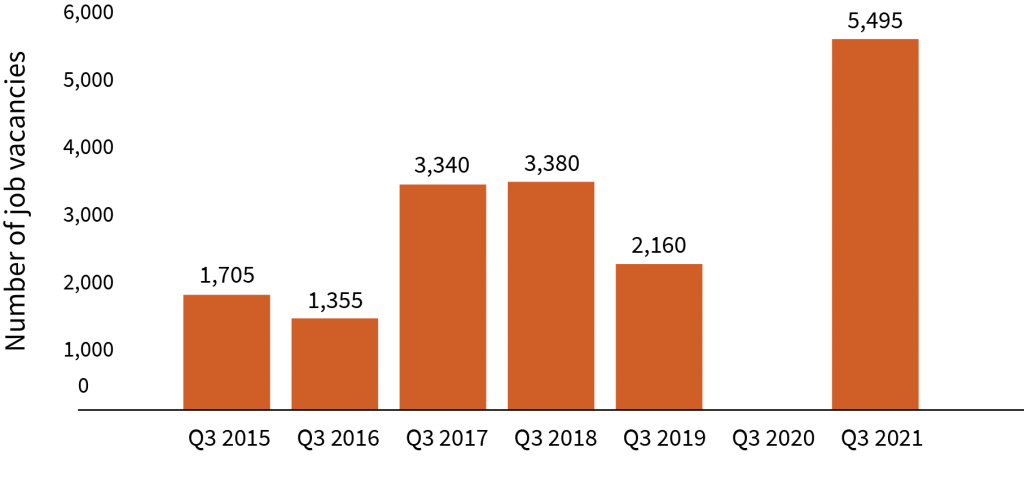 Labourers were in the highest demand in the quarter. Vacancies in drilling and service rig labourers (such as leasehands and roughnecks) (NOC 8615), rose to 965 in Q3 2021 from just 205 two years earlier. Over the same period, vacancies in drilling and service rig operators (such as rig technicians and cementing operators) (NOC 8412), rose by 430 to 680, while vacancies in drillers, servicers and testers (such as directional drillers and wireline operators) (NOC 8232) rose by 260 to 325. There were 205 vacancies in contractors and supervisors in drilling and services (such as rig managers) (NOC 8222), up from just 55 vacancies in the third quarter of 2019.
Job vacancy rate climbs to over 6%
The job vacancy rate in Canada's energy services sector (which represents the number of vacant positions as a portion of all available jobs – both vacant and occupied) jumped to 6.1% in the third quarter of 2021 – the highest since comparable data became available in 2015. It was also above the national average of 5.4% for all industry sectors. Prior to this, the Q3 job vacancy rate for the energy services sector averaged 3.0% from 2015 to 2019. As shown in figure 2, job vacancy rates were highest in British Columbia (7.5%) and Alberta (6.8%).
Figure 2: Job vacancy rates in Canada's energy services sector, by region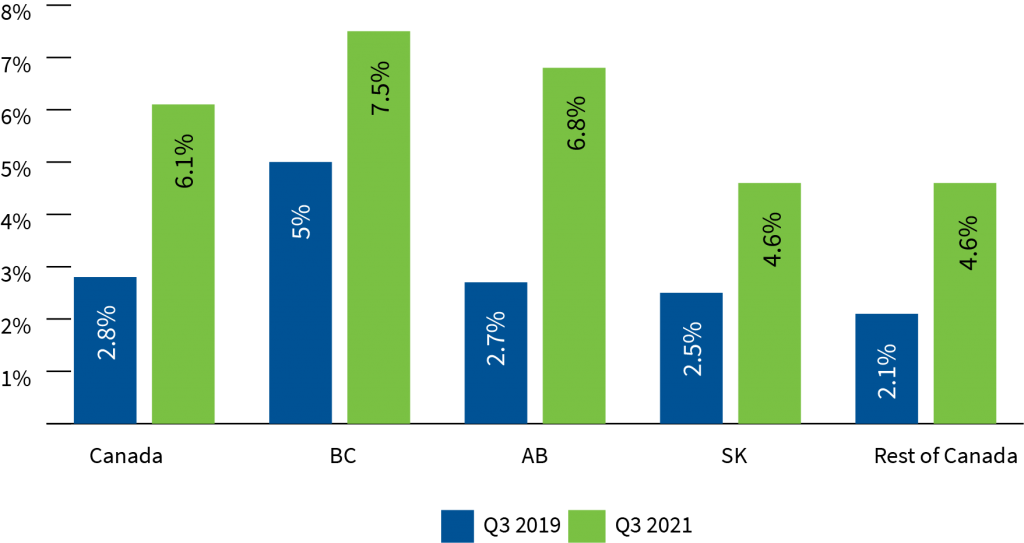 Canada's unemployment rate in the energy services sector down to 3.7% at the end of Q3 2021
After years of layoffs due to the industry downturn and the economic impacts of COVID-19, increased industry activity combined with federal and provincial funding support for well closure activities are helping to stabilize the energy services sub-sector. Data from the Labour Force Survey (LFS) showed employment in Canada's energy services sector increased by 9,900 (+17%) between the end of Q3 2020 and the end of Q3 2021, while the number of unemployed dropped from 12,900 to just 2,700. By the end of September 2021, the unemployment rate was down to 3.8%, from 17.7% in September 2020.
What's ahead?
Since the end of the third quarter, employment in Canada's energy service sector has only continued to rise, increasing another 1,500 (+2.1%) from September to November 2021. The unemployment rate was 3.9% in November, with just 2,900 energy services workers across Canada unemployed and looking for work.
Watch for December Labour Force Survey data which will be available on the CareersinEnergy.ca website on Friday, January 7, 2022.