news
Labour demand outstripping labour supply in Canada's energy services sector
Labour Market Information
Labour demand outstripping labour supply in Canada's energy services sector
There are more job vacancies available in Canada's energy services sector than there are workers who are willing to fill those vacancies. Statistic Canada's Job Vacancy and Wage Survey (JVWS) provides an indicator of unmet labour demand by asking employers to report the number of job vacancies at their business location. Information on labour market supply is collected by the Labour Force Survey (LFS). The number of unemployed and the unemployment rate provide information on the supply of people looking for work.  
Labour Demand: Job vacancies at an all-time high in Canada's energy services sector 
With oil and natural gas prices rising and industry activity picking up, Canada's energy services sector is experiencing something it hasn't seen for years – record job vacancies. Looking at the most recent data – second quarter of 2021, there were a total of 4,425 energy services job vacancies, 55% (+1,565) more than the second quarter of 2019, the most recent comparable data for the same period. (Statistics Canada did not measure job vacancies between March and September 2020). Job vacancies were up in all regions compared to Q2 2019. The largest increases were in Alberta (+670) and British Columbia (+565).
Figure 1: Job vacancies in Canada's energy services sector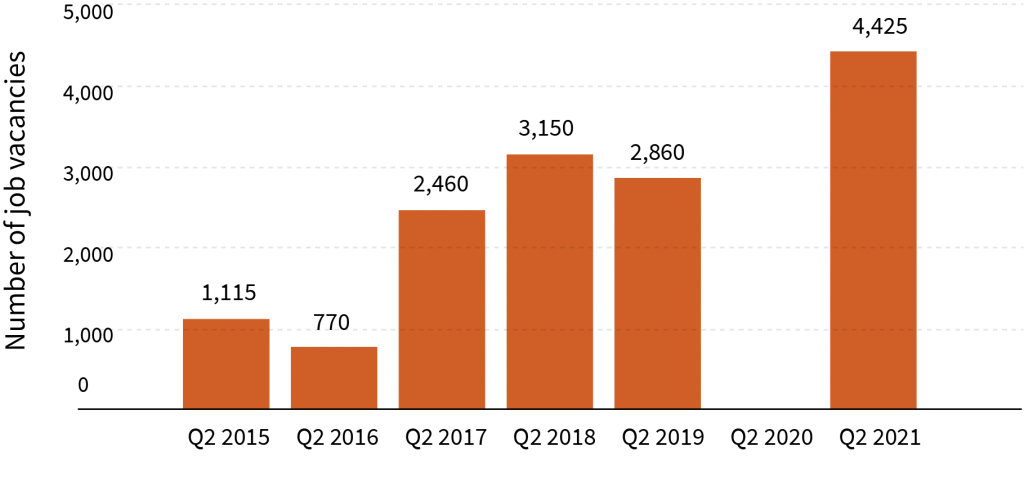 Labourers were in the highest demand in the quarter. Vacancies in drilling and service rig labourers (such as leasehands and roughnecks) (NOC 8615), rose to 1,070 in Q2 2021, from just 400 two years earlier. Over the same period, vacancies in drilling and service rig operators (such as rig technicians and cementing operators) (NOC 8412),  rose by 110 to 390, while vacancies in drillers, servicers and testers (such as directional drillers and wireline operators) (NOC 8232) rose by 100 to 255. About 180 contractors and supervisors in drilling and services (such as rig managers) (NOC 8222) were also vacant. A comparable number is not available from two years prior. 
In a newly released PetroLMI podcast, Clayton Heck, Senior Project Manager with Arrowhead Abandonments talks about the challenges his company is facing hiring qualified labourers for well closure work.
Finding skilled labour has become a big challenge for us [starting] this summer. There is a major shortage of skilled hands out there. You can find labourers – but when you need skilled hands for specialty jobs – this is where we are struggling. We've had our competitors park outside our shop and offer our hands more money to join them.
Heck
Job vacancy rate jumps to 5.6% 
The job vacancy rate in Canada's energy services sector (which represents the number of vacant positions as a portion of all available jobs – both vacant and occupied) jumped to 5.6% in the second quarter of 2021 – the highest since comparable data became available in 2015. It was also above the national average of 4.6% for all industry sectors. Prior to this, the Q2 job vacancy rate for the energy services sector averaged 2.6% from 2015 to 2019. The higher rate in 2021 was the result of both a rise in vacancies (+1,565 available jobs) combined with a decline in payroll employment (-7,745 occupied jobs). As shown in figure 2, job vacancy rates were highest in British Columbia (9.6%) and Alberta (5.5%).
Figure 2: Job vacancy rates in Canada's energy services sector, by region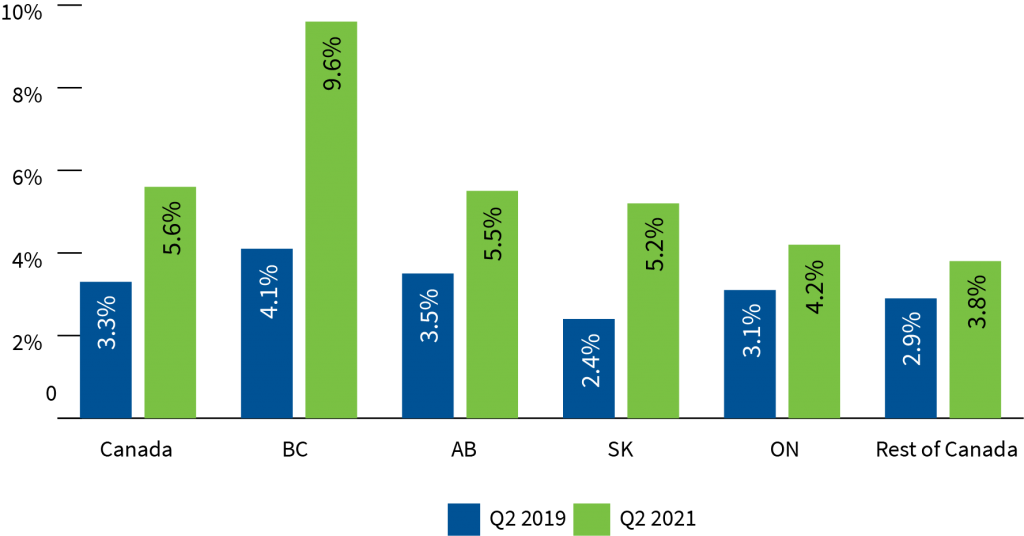 Labour Supply: Canada's unemployment rate in the energy services sector down to 5.4% at the end of Q2 2021 
After years of layoffs due to an economic downturn and the impacts of COVID-19, increased industry activity combined with federal and provincial funding support for well closure activities are helping to stabilize the energy services sub-sector. Data from the Labour Force Survey (LFS) showed employment in Canada's energy services sector increased by 5,900 (+10%) between the end of Q2 2020 and the end of Q2 2021, while the number of unemployed dropped from 17,600 to just 3,600. By the end of June 2021, the unemployment rate was down to 5.4%, from a high of 23.5% in June 2020.  
Declining energy services sector labour force 
Canada's energy services sector is both seasonal and cyclical in nature. This fact, combined with the COVID-19 pandemic and associated layoffs, has resulted in many workers retiring or leaving the sector in search of a more stable career. As shown in figure 3, Canada's energy services sector labour force has declined 20% (-17,800) over the last two years – from about 89,100 in October 2019 to 71,300 in October 2021.
Figure 3: Labour force characteristics for Canada's energy services sector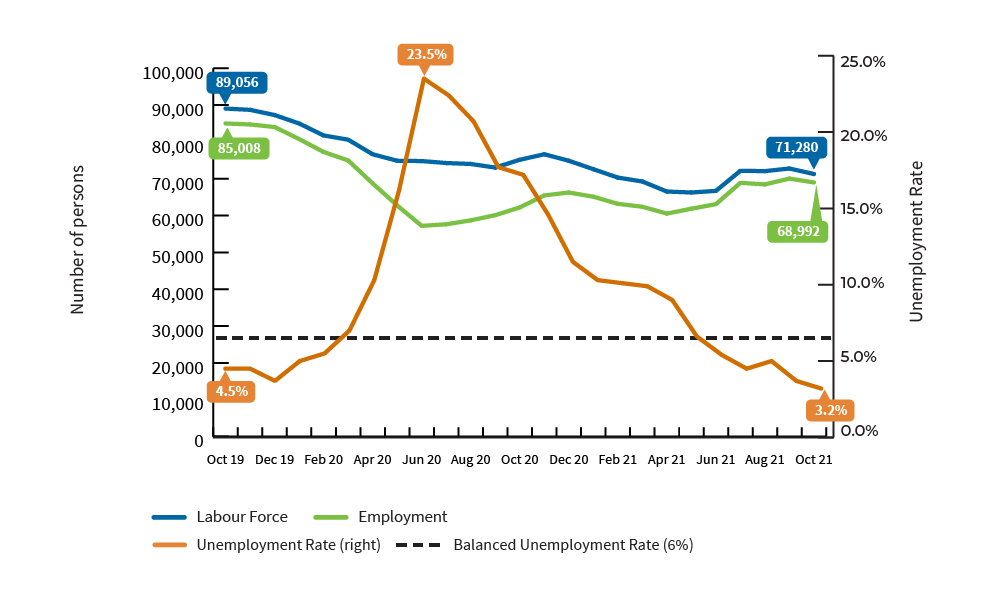 Labour shortages could intensify 
Labour shortages in the energy services sector are expected to intensify over the coming months. Here are some of the reasons why.  
Increased industry activity: In November 2021, the Petroleum Services Association of Canada (PSAC) updated its Canadian Oilfield Services Activity Forecast for the fourth time this year, predicting the number of wells drilled across Canada will reach 4,650 in 2021, an increase of 400 wells over its July forecast. For 2022, PSAC expects 5,400 wells will be drilled, an increase of 16%.
Global supply-demand imbalances are leading to higher commodity prices, and we expect drilling activity to increase out of necessity. However, at the same time, we're also seeing a severe labour shortage, which has the potential to impact how much growth the industry can achieve in the coming year.
Gurpreet Lail, PSAC President and CEO
According to a survey in early 2021, over 50% of PSAC members reported already having difficulty finding qualified and experienced workers to meet demand. Looking forward, over 60% of PSAC members surveyed anticipated hiring for growth and replacement of workers due to turnover in the third quarter of 2021, while over 40% expected to be hiring for growth in the final quarter of 2021 and into the first quarter of 2022.  
Lack of qualified applicants in available labour pool: As the energy industry heads into a busier fall and winter season, Canadian Association of Energy Contractors (CAOEC) member companies surveyed by PetroLMI in June 2021 said they are experiencing a variety of issues recruiting workers, including a lack of qualified applicants, specifically workers who are physically fit, can pass a pre-employment drug screen, have a valid driver's license as well as valid tickets and certificates. The CAOEC expects increased drilling activity in 2022 to create 35,000 new jobs in Western Canada, an increase of 7,200 jobs year-over-year. In another of PetroLMI's recently released podcasts, Mark Ashton, President of 360 Energy Liability Management, talks about the challenges his company is facing hiring qualified workers.
There is a labour pool available, however we are seeing a real shortage of workers that have the skills and experience we need in our space — they don't necessarily have a skill set this is directly applicable for the work we do. We are mostly experiencing a shortage of people with 2 to 5 years experience.
Ashton
Well closure activities increasing demand for energy services workers: Just over half of survey respondents (53%) to the PetroLMI survey of CAOEC members on 2021 workforce plans <link to blog> said increased activity due to government well site reclamation incentive programs, was playing a factor in driving an employment increase in their companies. See PetroLMI's Workforce Impacts from Alberta Well Closures report for more on this topic.
Vaccine mandates: In an effort to enhance safety measures already in place, companies such as Canadian Natural Resources (CNRL) and LNG Canada have announced mandatory vaccine policies. CNRL will require employees and contractors at Canadian sites to be fully vaccinated by December 1, while LNG Canada's staff will have to confirm they are fully vaccinated by November 30 – and are recommending that project contractors adopt the same mandatory vaccination requirement for their workers. At Imperial Oil's Kearl site, workers either have to be vaccinated or tested every 72 hours. Cenovus requires rapid testing for site access regardless of vaccination status in Canada. While CNRL was the first oil sands company to announce such a policy, others are likely to follow. As a result, Canadian energy services companies looking to hire will likely require new applicants and current workers to be fully vaccinated – a further challenge in a shrinking labour pool.
According to a recent article by Chris Varcoe, "In the past six months, the drilling sector has bumped up wages by 10%. Companies are offering $1,000 bonuses to new staff who remain on the job for 90 days and providing additional bonuses for workers who are vaccinated, said Bob Geddes, president of Ensign Energy Services, the country's largest driller." 
The road ahead
Since the end of the second quarter, employment in Canada's energy service sector has only continued to rise, increasing another 5,900 (+9.3%) between June and October 2021. The unemployment rate has dropped further to 3.2% in October, with just 2,300 energy services workers across Canada unemployed and looking for work. 
All of this points to a challenging and interesting time ahead.
Watch for Statistics Canada's third-quarter job vacancy data and November labour force data to be released in December, providing further insight into the supply and demand for workers.