news
Alberta's energy services job vacancy rate reaches an all-time high
Labour Market Information
Alberta's energy services job vacancy rate reaches an all-time high
Attracting and retaining more youth is necessary – but a challenge for the sector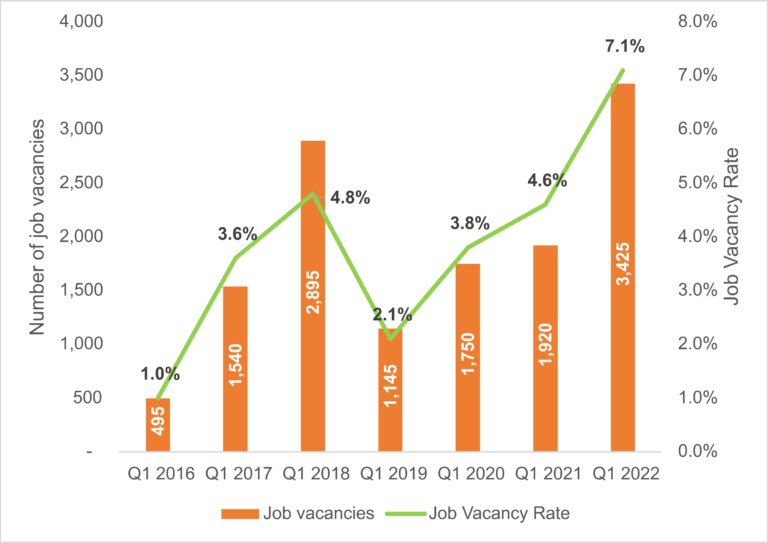 Energy services employers in Alberta were actively seeking to fill 3,425 positions in the first quarter of 2022 – an increase of 78% from a year earlier and the highest quarterly number on record. The job vacancy rate —which measures the number of vacant positions as a proportion of total labour demand (filled and vacant positions combined)—also jumped to an all-time high of 7.1% in the first quarter (Figure 1).
Labourers were in the highest demand in Alberta during the quarter. Vacancies for drilling and service rig labourers, such as leasehands and roughnecks (NOC 8615), rose to 695 in Q1 2022, from just 205 in Q1 2021. Over the same period, vacancies for  drillers, servicers and testers, such as directional drillers and wireline operators (NOC 8232) rose to 460, while there were 335 vacancies for  drilling and service rig operators, such as rig technicians and cementing operators (NOC 8412). There were 180 vacancies for contractors and supervisors in drilling and services, such as rig managers (NOC 8222), up from just 90 vacancies in the first quarter of 2021.
Younger workers are a small proportion of the energy services sector in Alberta
Given the aging population and the increase in demand for skilled workers, a focus for the energy sector must turn to attracting and retaining more youth. The energy services sector workforce in Alberta is older, dominated by male workers, and lacks diversity when compared to other industries provincially. In the second quarter of 2022, 82% of the workers were men, while half were aged 45 years and older. Youth under the age of 35 made up only 23% of employment in the sector (with the youngest cohort aged 15 – 24 accounting for just 4%).
Youth not understanding breadth of career opportunities in energy leading them away from working in industry
Youth and their waning interest in a career in the energy sector has been the focus of many studies over the past few years. A recent BDO Canada study titled, "Turning Sceptics Into Changemakers: Attracting Gen Z to the Natural Resource Sector in Canada" reveals that only 21% of the Canadian students surveyed said they have considered a career in the natural resources or energy industry. A large majority, 68%, said they are not at all interested in a career in the oil and natural gas sector.
The study also reveals that Gen Z (those born in the late 1990s and early 2000s) in Canada do not fully understand the role that technology and innovation plays in the green energy transition and the career opportunities this present for them. Just 43% of Gen Z surveyed believe that technology, data analytics, artificial intelligence (AI) and internet of things (IoT) will play a very prominent role in the future of the natural resources industry.
New report suggests a more accurate perception of Alberta is needed
For decades, Alberta saw younger people moving to the province, often due to oil booms. But the trend reversed in 2016 – and for the first time since 1988 – more youth aged 15 – 29 moved out of the province than moved in.
A new Canada West Foundation-led study titled, "Work to Live: Alberta Youth Mobility" looks at the reasons for this dramatic shift and recommends ways to attract and retain youth. According to the report, young talent is critically needed in a variety of sectors in the province, including clean energy, life-sciences and artificial intelligence. To encourage youth to choose Alberta as a place to live and work, the authors suggest a more accurate perception of the province is needed along with a better understanding of the many diverse career opportunities available.
As an example, the cleantech sector will need workers with specialized skills like engineers and business experts like accountants, while digitalization will require technology workers, like data scientists, with sector-specific expertise. Those who have worked in the traditional oil and natural gas sector can upskill and reskill to certain cleantech sub-sectors and jobs. To explore how  oil and natural gas skills may transfer to other careers within the energy industry, see our  Assessing your Career Change resource.
Did you know?
In addition to drilling for both oil and natural gas – many energy services companies are also working on a number of exciting projects as part of Canada's energy transformation. These include carbon capture, utilization and storage (CCUS) projects, as well as drilling for geothermal energy, helium, potash, lithium and natural gas (which can be made into hydrogen). In addition, many are continuously developing operational processes that reduce environmental impacts such as spill response and prevention procedures, noise reduction techniques, hazardous waste handling and storage protocols, and fuel use strategies. – Canadian Association of Energy Contractors (CAOEC)
Adapting Futures Virtual Reality (VR) Experience – helping the energy sector engage more diverse talent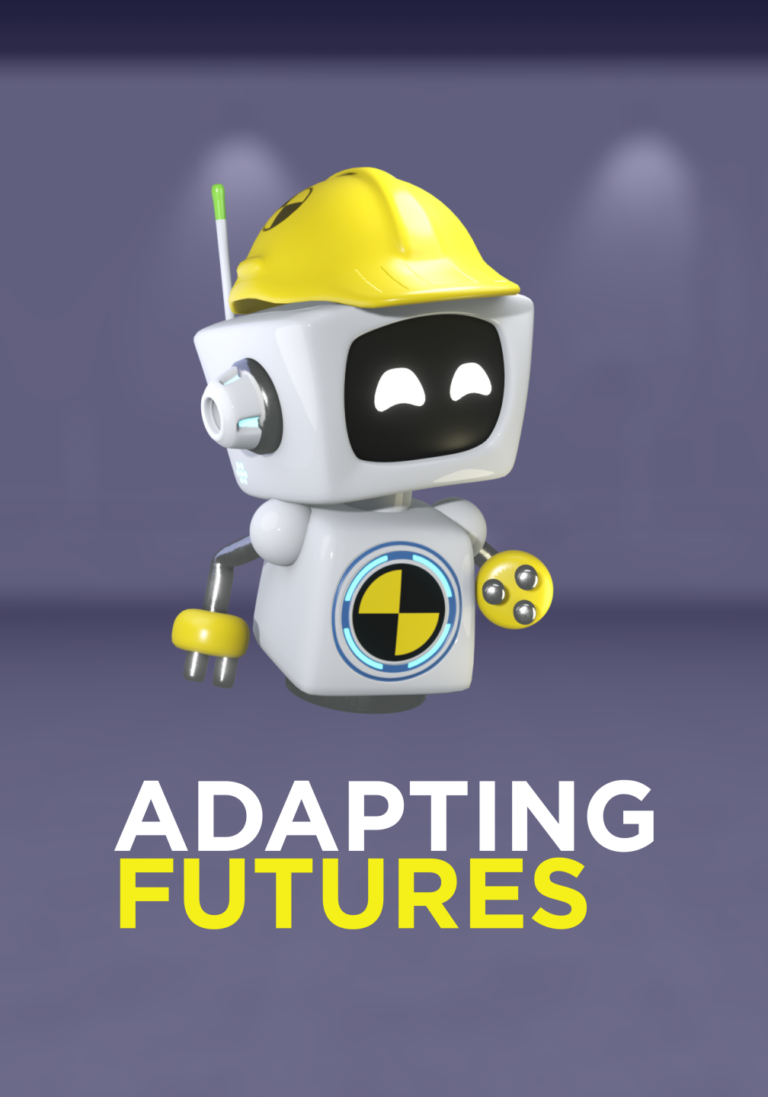 Engaging more diverse talent, including youth, immigrants, newcomers and Indigenous Peoples in Canada's energy sector is critical for developing the resiliency and innovation needed to support the transformation of Canada's energy future. Success, however, will not be achieved through a "business as usual" approach.
Over the past year, Careers in Energy has made strides toward educating potential talent about the energy industry and its variety of evolving career opportunities through the Adapting Futures VR Experience. 
Through VR, participants are immersed in the environments of five different energy sectors, including a tour of a petrochemicals plant, learning first-hand about the cleantech innovation life cycle, exploring digital advancements in industry and how workers make sense of data faster and how automation is taking the routine out of rote tasks in energy.
Over the period of April-May, 2022, Careers in Energy was able to reach over 3,500 students across Western Canada through various workshops and events. A survey of student experiences revealed that only four out of 10 youth who explored the VR and Careers in Energy website had considered a career in the energy industry prior to using the tools and resources. After participating in a workshop or event, over half of students (54%) indicated that their interest in a career in energy had changed.
The most common feedback from youth was they were surprised how many energy sources existed and the number of different careers associated with them. "There are different opportunities in the energy industry than I thought there were," said one participant. Cleantech was a popular choice for many of the youth. Responses included: "I learned about carbon capture and storage which really fascinated me," or, "I learned we are transitioning into a cleaner and renewable energy." The content on industrial construction also brought to light that industrial construction does not just involve the trades. "There's a lot more to construction than I thought there was," and "Construction sites and project can take years to prepare," said other respondents. According to the survey responses, nine out of 10 youth (94%) who participated in the workshops or events said they would definitely or likely recommend the experience to others.
"Our industry needs to renew its talent pool as the energy transition accelerates – an issue that is becoming increasingly critical. Identifying, attracting, recruiting and retaining talent with the skills to unlock opportunities will be fundamental to the Oil & Gas industry's success. As career choices are based strongly on perceptions, the industry and organizations of the future must align their operating models with the changing attitudes and expectations of next generation talent." – World Petroleum Council, Youth Perception of the Oil and Gas Industry 
World Petroleum Council