Bridging the Gap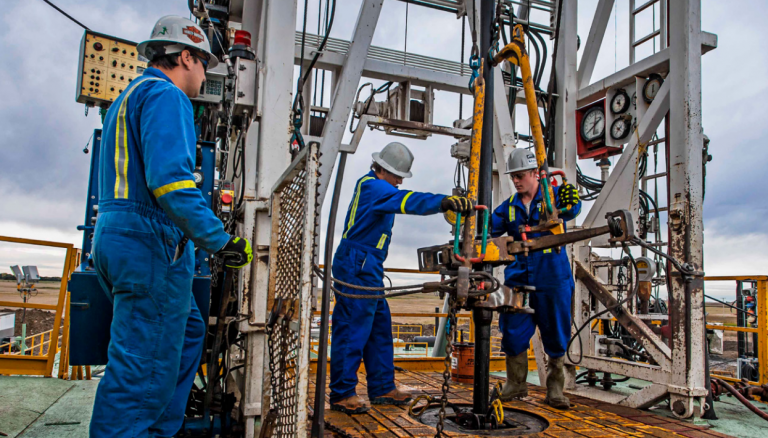 Connecting job seekers to actively hiring employers in Alberta's energy services sector
Careers in Energy has partnered with the Government of Alberta to launch Bridging the Gap, a program designed to increase and improve connections between job seekers and energy services companies that are actively recruiting in Alberta.
Aiming to increase employment—particularly among equity-deserving talent pools such as immigrants and Indigenous Peoples, youth, women, and other diverse talent pools—Bridging the Gap offers:
Insights for service sector employers about the skills, qualifications and where to access targeted talent pools
Information for job seekers about the energy services sector
Hiring events across Alberta from May 2023 to March 2024
How big is the gap?
The following statistics illustrate the gap between the current labour supply and the demand for workers in Alberta's energy services sector:
Energy services employers in Alberta were actively seeking to fill 3,375 positions in the fourth quarter of 2022, an increase of 5% from a year earlier (3,220 vacancies) and triple the job vacancies in the final quarter of 2020 (1,120).
There have been more than 3,000 job vacancies in the province's energy services sector in every quarter since the third quarter of 2021.
Alberta's energy services job vacancy rate was 6.1% in the final quarter of 2022.
Many good-paying, potentially career-building jobs are available in the energy services sector that require little to no direct experience. According to Mark Scholz, President and CEO of the Canadian Association of Energy Contractors (CAOEC), the industry is "looking at attracting another 20,000 to 30,000 people over the next 12 to 18 months due to near record highs in drilling activity."
Yet research conducted by Careers in Energy found that under-represented talent pools often face barriers to landing these jobs such as:
Knowing how/whether their skills transfer into in-demand jobs.
Lack of information about available occupations in the energy sector.
Uncertainty about how to effectively conduct a job search.
How can Bridging the Gap help?
Bridging the Gap provides detailed information to employment agencies and training organizations about available jobs in the industry, transferable skills, and insight into common hiring challenges such as access to required safety certifications.
At the same time, job seekers are encouraged to take the Job Seeker Survey so the findings can be shared with employers throughout the life of the program to enhance recruitment and help them understand the barriers that job seekers may face.
We're also working to bridge the gap by hosting hiring events around Alberta to create new, accessible opportunities for job seekers and energy industry employers to connect.
What jobs are available?
Many full-time, well-paying, entry-level jobs are available as well as many appropriate for workers experienced in sectors adjacent to energy such as construction, trades, and transportation.
Often, employers in the sector offer training for new hires, including industry-standard safety certifications and specific skill-building programs.
Occupations currently experiencing labour shortages include:
Drilling and service rig labourers, supervisors and contractors
Rig servicers and testers
Heavy equipment technicians and operators
Electronic technicians and electricians
Steamfitters and pipefitters
Rig operators
Camp accommodation/catering workers
Construction labourers
A willingness to learn and knowing one's own strengths help a job seeker to stand out from the crowd. Transferable skills like teamwork, leadership, attention to detail, problem-solving and a can-do attitude are also highly valued by energy sector employers.
Working in the energy services sector
Energy services jobs are often physical and frequently involve outdoor tasks and shift work. The work is typically in rural areas providing opportunities to those that live in smaller communities to be closer to work or for others to travel from urban hubs.  When the work location requires travelling from an urban hub, many employers provide support for transportation, accommodation and meals, which allows families to remain in their communities. Workers may also be impacted by extreme weather in both summer and winter.
If you like working with your hands, operating equipment and machinery, problem solving and teamwork, then the energy sector is an excellent place to build a career!
---
Job seekers and employment agencies, check out these resources: