Training Program Gives Energy Workers Digital Skills for Evolving Workplace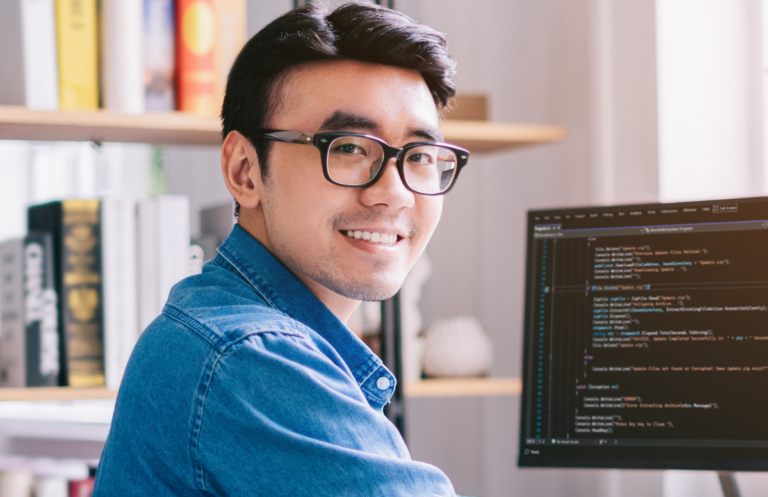 To say that Canada's energy sector has become a highly digital environment is an understatement. And it's not just IT departments; employers are relying heavily on workers of all stripes to be well-versed in the language of high tech. So, what if companies could arm their employees with the digital skills workplaces need going forward? And what if it didn't cost them a dime?
To help support energy workers up their digital game, Careers in Energy (CIE), a division of Energy Safety Canada, has partnered with Lighthouse Labs to offer reskilling and upskilling training programs in key areas of cyber security, web development, data science and data analytics.  This partnership is designed to offer accessible, flexible, fully funded training opportunities, enabling individuals within or aspiring to join the energy industry to upgrade their skills.
Canada's energy industry is undergoing rapid innovation and is diversifying at a pace never seen before. This is why we're working with an industry-leading provider like Lighthouse Labs to give the workforce the digital skills they need to thrive in today's energy industry.
Murray Elliott, CEO of Energy Safety Canada
Fully funded and flexible
The program is open to individuals or learners looking to develop a new skill set. What's more, it is a fully funded initiative offering flexibility through monthly start dates and a tech stipend to support participants in need.
It's crucial for organizations to keep pace with the change to remain competitive, relevant, and successful. By deploying an effective digital transformation strategy, employers can improve virtually every aspect of their business.
Jeremy Shaki, CEO of Lighthouse Labs
The benefits are many and include gaining a competitive advantage, enhancing customer experience, and improving efficiency and decision-making. It can also lead to creating new revenue streams, expanding market share, improving collaboration, enhancing sustainability and environmental impact, among other advantages.
Since 2013, Lighthouse Labs has launched, accelerated, or transformed more than 40,000 careers in coding, cyber security, data science, and other in-demand fields critical in today's technological economy.
The Lighthouse Labs program caters to energy-sector employers by providing digital skills training in key areas related to "Industry 4.0," which refers to integrating intelligent digital technologies into industrial processes. As energy companies adopt a variety of emerging technologies, they'll need to ensure their employees possess critical skills in areas like data analytics and cyber security.
Digital bootcamps
The Lighthouse Labs training program features 12-week immersive "digital bootcamps."
The Cyber Security bootcamp is an accelerated training program that offers participants ⁠with little-to-no⁠ IT background with the practical skills needed to land a role in cyber security in the energy industry.
The Data Science bootcamp teaches students skills such as navigating data science tools, libraries and workflows, and machine learning and beyond.
The Web Development bootcamp focuses on Lighthouse Lab's three pillars of knowledge in software development, namely application development, computer science, and software engineering principles.
Finally, the Data Analytics bootcamp sees participants "dig into the data" by learning how to build data-driven strategies for success and develop skills that prepare them for data analyst positions in the energy industry.
We want to reach beyond the IT department with this training program. We believe that arming non-IT workers in the energy industry with digital skills can empower key members of the workforce to make impactful business decisions on the job.
Lisa Stephenson, Director, Careers in Energy
The devil's in the data
The data available backs up the need for digital upskilling. For instance, a survey by U.S.-based technology consulting firm Gartner found that skills and staff shortages was cited as the top roadblock to success for data and analytics initiatives, with 17% of all respondents citing it as the top roadblock and 39% citing it as a top-3 roadblock.
Evidence also shows that Canada has a significant digital skills gap. Businesses in Canada and elsewhere are increasingly reliant on digital connectivity, with forecasts showing that by 2026, digital literacy will be essential for nine out of every 10 occupations in the country. For example, a global survey on digital skills conducted by Salesforce reveals that eight in 10 Canadian workers say they lack the resources to learn the digital skills businesses are seeking today, while 86% feel unprepared to meet the requirements of the future.
 We're passionate about preparing Canadian companies to thrive in the era of digital transformation. Our mission is to empower your employees with the essential skills needed for success in digital roles, ultimately ensuring your company's prosperity in today's changing economy.
Abu Batasi, Director of Sales at Lighthouse Labs
Lighthouse Labs teaches new concepts through an interactive, immersive, and collaborative training model that guides students through the first attempt until they gain confidence with their new skills.
What's more, Lighthouse Labs employs mentors who are experienced, working professionals that coach students and teach problem-solving strategies to help them succeed and grow on the job. Students can reach out on demand to receive one-on-one coaching for technical and career-related questions and help build networks and connect them with other industry professionals.
Are you interested in boosting your staff's digital skills? Visit the Lighthouse Labs website to learn more and to sign up your employees for the digital upskilling program.
---
Funded in part by the Government of Canada's Sectoral Workforce Solutions Program.
Back to top