Careers in Energy: Dynamic, Rewarding, and Available!
The world needs energy
Global energy demand is projected to increase between 1 and 2% every year until at least 2040. All forms of energy will be needed to meet growing demand. Canada's energy sector – a cornerstone of this country's economy that directly employed almost 185,000 people in 2022 – is well-positioned to meet that demand responsibly and reliably.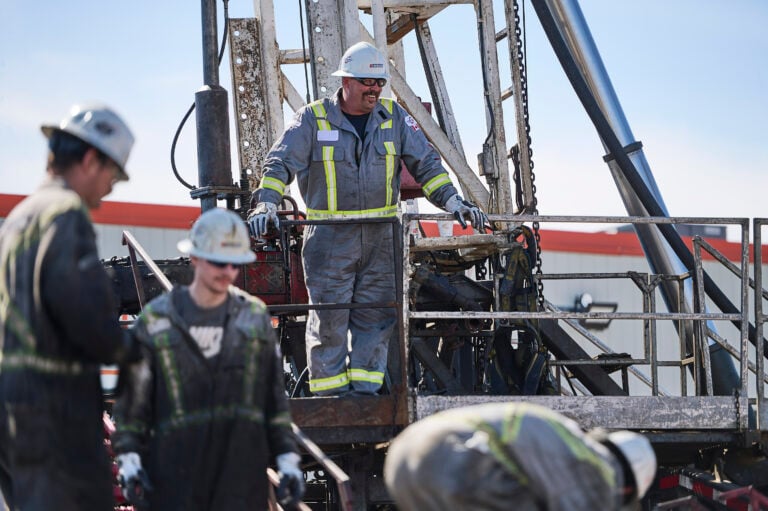 Canada is a world leader in the production of traditional energy sources like oil and natural gas and is leading the development of emerging energy sectors, such as biofuels, carbon capture and storage (CCS), liquefied natural gas (LNG) and hydrogen. The industry offers numerous rewarding career opportunities, and with the right guidance and resources, individuals can thrive in an industry that values innovation, environmental protection, effective leadership and collaboration.
The energy sector, equipped with a skilled workforce and over a century of energy production experience, is continuously developing and adopting new technology. However, it needs more workers – and lots of them.
Canada's energy workforce is currently challenged by its older demographic, pronounced male presence and notable lack of diversity compared to national averages. According to 2022 data from Statistics Canada's Labour Force Survey, while women constitute 48% of the workforce across all sectors, their representation within the energy industry stands at just 20%.
In the case of youth employment – individuals under 25 years old – the sector lags, employing 6% compared to the 14% average across all industries. Additionally, immigrant participation in the energy industry falls below the national average, at 17% compared to the collective 27% across all sectors. These disparities underline the industry's need for enhanced diversity and inclusion efforts that align more closely with broader demographic norms.
A diverse workforce offers mutually beneficial relationships between communities and the energy industry. Indigenous Peoples, for example, offer a vital and growing source of labour for the energy industry. According to 2022 data from Statistics Canada, 7.7% of the energy sector's workers are Indigenous Peoples, representing significantly more than the Canadian average of 3.9% across all industries. This number emphasizes the stable, gainful and meaningful career opportunities for Indigenous workers.
To address the gaps in labour market forecasting, workforce planning, career information and training and upskilling programs, Careers in Energy (CIE), a division of Energy Safety Canada, launched a project called Building a Workforce for Canada's Energy Future. Through the project, CIE will expand its proprietary labour modelling system and employment forecasts beyond traditional oil and gas to include growing energy sources, such as hydrogen, CCS, LNG and biofuels. In addition, two energy scenarios will be developed allowing CIE to provide previously unavailable labour market forecasting and an understanding of the workforce required to support a low-carbon economy. CIE's online tools and resources will be updated through the project to provide job seekers with the information needed to explore the career landscape and to find a match with a rewarding career in energy.
Career practitioners also have a significant role to play in helping change perceptions of energy sector roles. They can help increase clients' awareness of the large variety of exciting, rewarding and meaningful careers in this field. As evidenced by the 170 career profiles featured on CareersinEnergy.ca, the energy industry offers careers for every skillset, every preference and every interest. There is a role for everyone in energy.
Mythbusters
The oil and gas sector is a sunset industry. FALSE.
Global demand for energy is growing. We continue to need heat for our homes, fuel for transportation and depend on products made from oil and gas every day. As developing countries strive to improve their standard of living, countries across the world will continue to consume more and more energy of all types, in all forms – meaning jobs in energy, including oil and gas, will be in demand for decades to come.
Energy careers are only found in producing provinces, such as Alberta. FALSE.
Many energy sector jobs are found in producing provinces like Alberta, but the energy sector employs many workers across the country.
In August 2023:

More than 7,100 workers were directly employed in Atlantic Canada's energy sector;
More than 12,500 workers were directly employed in Saskatchewan's energy sector;
More than 12,700 workers were directly employed in British Columbia's energy sector;
More than 15,900 workers were directly employed in the energy sector in Quebec, Ontario and Manitoba.
Source: Careers in Energy
Key elements that prospective employees are looking for and that the energy sector can deliver include:
Job security: Innovative and responsible employers provide a strong foundation for job security in the industry.
Diverse career paths: Opportunity for a vast array of career paths makes it accessible to individuals of varying skills and interests whether that is technology, the environment, operations or leadership, there's a place for them in the industry.
Innovation: Offering opportunities to work with cutting-edge technologies and solutions to address global energy challenges.
Environmental stewardship: Commitment to environmental protection, including significant investments supporting sustainability and reducing environmental impacts.
Collaboration and leadership: Effective leadership and collaboration, providing opportunities for dynamic teamwork and to grow as leaders.
For more information, be sure to catch Careers in Energy's session at the upcoming Cannexus24 conference, "Career Resiliency in Canada's Evolving Energy Industry: A Case Study." We are excited to engage with career professionals to discuss skill and worker gaps and explore how our free online tools and resources can help career practitioners close those gaps and promote dynamic work opportunities in Canada's energy sector.
Visit CareersinEnergy.ca to learn more about our labour market data and research, tools and resources and available programs.
---
The Building a Workforce for Canada's Energy Future project is funded in part by the Government of Canada's Sectoral Workforce Solutions Program.
Back to top